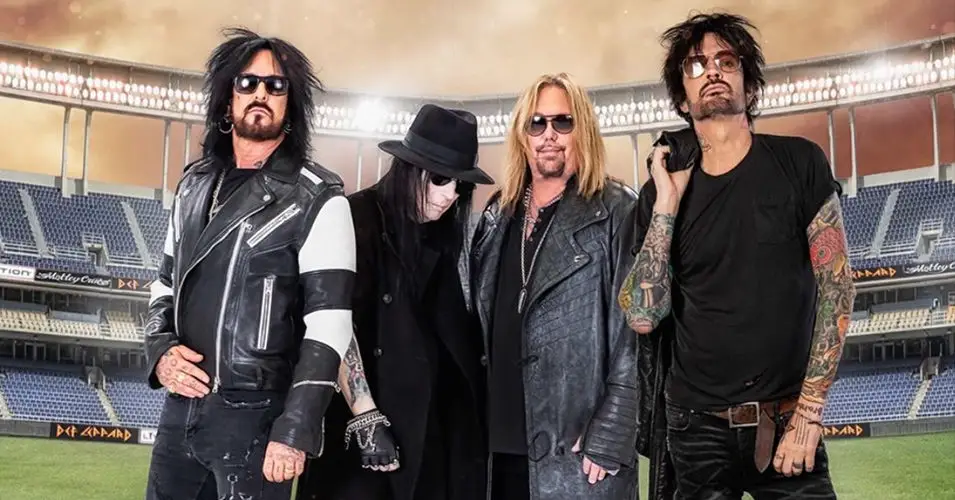 During a recent interview with Rolling Stone magazine, DEF LEPPARD singer Joe Elliott talked about band's upcoming tour with MÖTLEY CRÜE. The support for the tour will also come from POISON, JOAN JETT & THE BLACKHEARTS and CLASSLESS ACT.
Asked if DEF LEPPARD is planning to do more shows after "Stadium Tour" in order to promote new record, Diamond Star Halos, Elliott said: "Of course. It's always a bit nice to do anything. But this stadium tour is potentially going to run for three years all over the world. It's a case of finding a space between when we stop this year and start again next year to get in and do something that would benefit that situation.
"At this moment in time, we're just focused on the stadium tour since everything else is so far off and just an idea. It's an idea that we talked about. I don't see why we shouldn't or why we couldn't. Being away for two and a quarter years, let's just focus on the now.
"I hope to God the tour actually happens," he continued. "By the looks of things, it's 99 percent definite it's going to happen. It would have to be something better than World War III or Omicron to stop it now. We just want to enjoy the fact that we can do this now. And then we'll start making plans, but this stadium tour is going to go worldwide.
"That itself is going to be an event, which is what we want everything we do to be. The first new album in seven years is an event. This tour was an event before the pandemic was a big event. It's an even bigger one now. We just want to get on that particular horse and ride it for as long as we can and see how long we can stay on it.
"The Stadium Tour" is scheduled to kick off on June 16 in Atlanta, GA. Full list of dates and available tickets can be here.