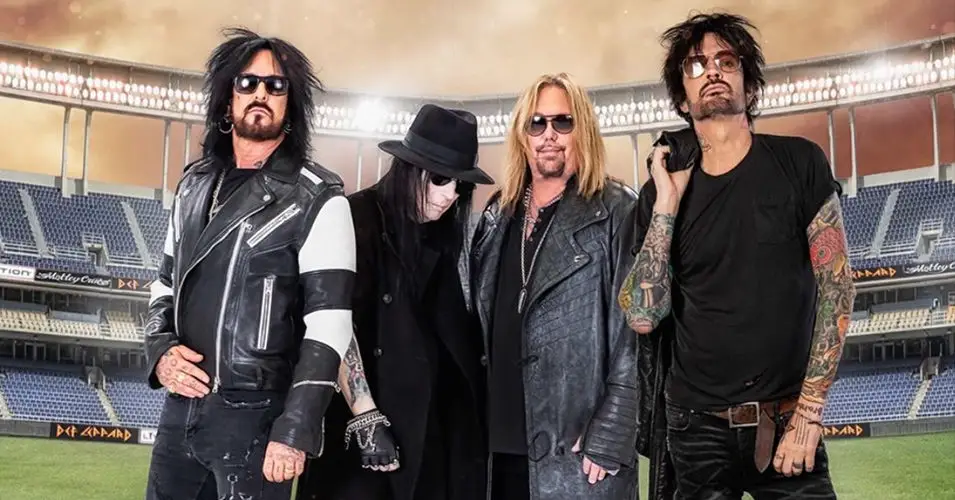 MÖTLEY CRÜE and DEF LEPPARD's long-awaited "The Stadium Tour" might be postponed again due to ongoing Covid-19 pandemic, and the newly launched Omicron variant that has been spreading at a much more rapid infection rate than the Delta variant.
One more thing that has CRÜE fans worried is that he band's singer Vince Neil has just recently announced appearance on the Red River Valley Fair on July 16 at the Red River Valley Fairgrounds in West Fargo, North Dakota. As it stands, Vince is scheduled to perform with MÖTLEY CRÜE one day before the Red River Valley Fair, on July 15, in Cincinnati, Ohio at Great American Ball Park and again one day after the West Fargo gig, on July 17, in Milwaukee, Wisconsin at American Family Field.
Nikki Sixx recently said that MÖTLEY CRÜE are still on track to finally launch its long-awaited reunion this year. The bassist addressed the status of "The Stadium Tour" while answering a fan question on Twitter. Responding to a fan who wrote, "I'm hopefully going to see The Crue in Houston Tx Aug 2022!", Sixx said, "We 100% plan on touring in 2022. See ya at the show."
When it happens, "The Stadium Tour" will mark the CRÜE's first live dates since wrapping its 2014/2015 farewell tour. CRÜE toured with POISON back in 2011 and DEF LEPPARD teamed up with POISON for a string of road dates in 2017, but the upcoming jaunt marks the first time all four acts — including JOAN JETT & THE BLACKHEARTS — have hit the road together for an extended tour.