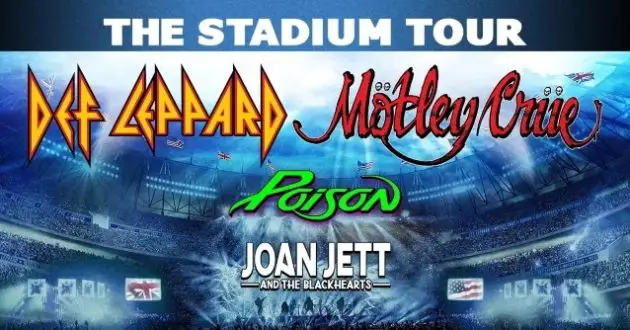 MÖTLEY CRÜE, DEF LEPPARD, POISON and JOAN JETT & THE BLACKHEARTS have issued an official statement on May 1st regarding the status of their previously announced "The Stadium Tour."
While they still haven't revealed if the tour will be postponed or not, fans are urging for bands to cancel the tour so they can get their money back.
"We wanted to reach out to all of our amazing fans and let you know that we've been hard at work preparing an amazing show," statement says.
"Our priority during this unprecedented time is to make sure that we are being as thoughtful and responsible as possible in the decisions we are making regarding 'The Stadium Tour' and that we are putting the fans' health, well being and safety first and foremost.
"We are currently weighing all options and are awaiting further direction from the powers that be.
"Our goal is to have an official update to everyone by June 1 outlining exactly how we will proceed. In the meantime, stay safe and healthy. We can't wait to see you all again."
One fan then wrote: "To make an announcement June 1 when every state said no large gatherings of any sort, sports, concerts, festivals will not be allowed until a vaccine. All shows this summer have been canceled or postponed. Cancel already so folks can get their money back to use for essentials."
While other fan also chimed in: "I know you guys don't want this to go to waste. Neither do we. But I'm not showing up if this concert happens on the scheduled date. No f*cking way. A lot of fans out there are hurting and could really use that money right now. Whenever this is over, we'll be there again."
One more fan added: "Please cancel so we can get our money back, my husband is self employed and has no work right now."