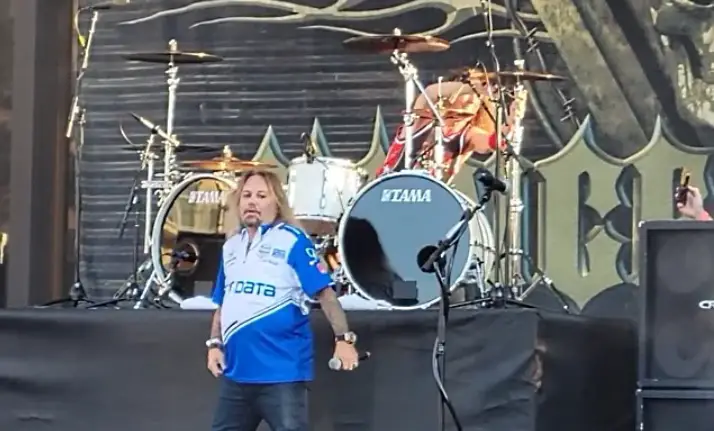 MÖTLEY CRÜE singer Vince Neil had another of his solo shows on September 25 at Acura Grand Prix Of Long Beach.
Although it was not bad as some the previous shows this year (is was still pretty bad), fans are still sceptical whether he would be ready for MÖTLEY CRÜE's "The Stadium Tour" next year with DEF LEPPARD.
As Metal Wani reports, some of their were that mad that they are now urging 60-year-old singer to retire.
One fan wrote: "Didn't MÖTLEY do a 'Last Chance to See Us Ever Tour' a couple of years back? Poor 'Ol Vince! I'd rather them bring John Corabi back than have to listen to his non-signing a—s wheeze, & whine through every song!
I've seen them live probably six times in my life. Twice when Vince could still sing, back in the '80s & early '90s. All the rest got worse and worse as time went on. I saw them last on The Saints of Los Angeles Tour. Great Album, but the concert was absolutely horrific! Vince was even worse than he was on Carnival of Sins. Vince needs to retire. It's embarrassing!"
Former MÖTLEY CRÜE singer John Corabi has recently addressed rumors that he will be replacing Vince Neil in the band for next year's tour.
After a recent article emerged online claiming — falsely — that CRÜE bassist Nikki Sixx issued an ultimatum to Neil to lose a significant amount of weight for the band's comeback tour or be fired and replaced by Corabi, adding that CRÜE held a series of rehearsals in Los Angeles late last month with Corabi on vocals, John took to his Facebook page to write: "Ok Gang, I've recieved a TON of messages from a lot of you who have unfortunately fallen for this 'CROCK OF SH*T!!!!'
"Here's the real deal… I can categorically state here once and for all that the chances of my 'return' to MÖTLEY are 0%…
"1) There is No Way, Nikki ordered an ultimatum to Vince, and used me as leverage! 2) There were absolutely ZERO secret rehearsals… And 3) After my incredibly STUPID portrayal in 'The Dirt Movie,' and the ludicrous sh*tty statements of one of the band members in regards to my contributions and lack of 'writing talents,' yours truly is NOT even remotely interested in doing that again…
"Don't buy into the 'CLICK BAIT BULLSH*T!!!!!'
"I wish TOMMY, NIKKI, MICK, and VINCE the best on their tour, and their future endeavors!!!!"