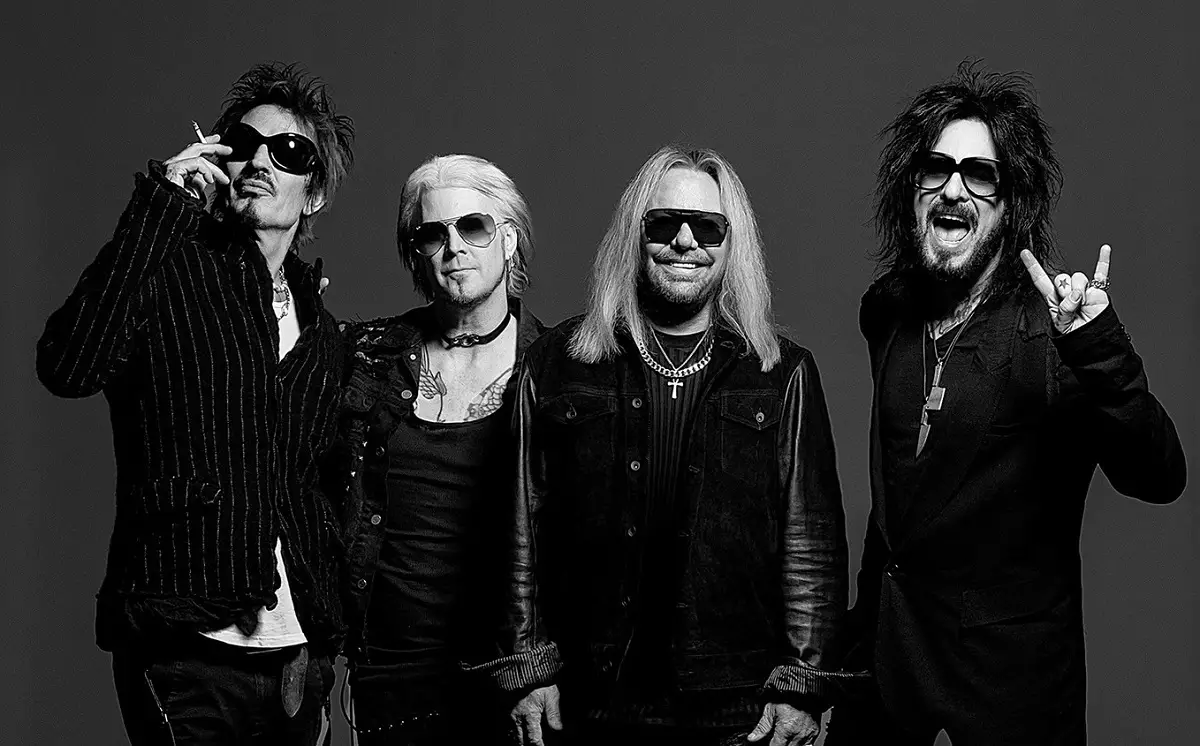 MÖTLEY CRÜE might be hitting the road once more, but is there a possibility of them producing new tunes? Nikki Sixx, in a recent social media update, mentioned that he, along with John 5 – the newly added guitarist replacing Mick Mars, had dedicated some time to crafting riffs in the recording studio.
Sixx wrote on Twitter, while sharing photo of him and John 5 in the studio: "Great day in the studio writing random riffs with J5."
As previously reported, Mars has filed a lawsuit against his former bandmates where he alleges that MÖTLEY CRÜE reduced his share of earnings from 25 percent to a mere 5 percent after revealing his decision to withdraw from touring. Additionally, he states that the group's attorneys made him feel as if he should appreciate this minimal portion, as they believed they had no obligation to provide him with anything. Mick also asserts that a complete band gathering took place where they chose to "unilaterally" exclude him from MÖTLEY CRÜE.
Mick consistently alleged that bassist Nikki Sixx was "gaslighting" him by suggesting his guitar abilities were declining, even though Sixx didn't "play a single note on bass" throughout a recent tour, as stated by the guitarist. Mick asserts that all of Nikki's segments were pre-recorded.
In a new interview with Variety, Mars said about bandmates: "Those guys have been hammering on me since '87, trying to replace me. They haven't been able to do that, because I'm the guitar player. I helped form this band. It's my name I came up with [the MÖTLEY CRÜE moniker], my ideas, my money that I had from a backer to start this band. It wouldn't have gone anywhere. And then to be hearing stuff from people like Bob Daisley from Ozzy Osbourne's band, when we were touring with them, and Carmine Appice… [In his 2014 memoir, Daisley recounted a conversation with the other members of MÖTLEY CRÜE on a tour bus in 1984 when they allegedly solicited his advice about firing Mars, and he strongly advised against it, saying Mars was an integral part of their chemistry. Daisley retold the story in an interview four months ago which was published on Blabbermouth.net]
"The thing that they keep pushing, for many years, is that I have a bad memory. And that's full-blown, out-of-proportion crap," he continued. "Around 2012, when they first started saying that my memory was bad and I didn't remember the songs, I came home and saw all my doctors, because I keep myself together, because I'm an old bastard. They had all the 10th Street people there [from the band's management] — probably about five or six people — [versus] all my doctors going: "There's nothing wrong with him." And now they're still playing that game with me.
"So, no, the truth is: I want to retire from touring because of my AS [Ankylosing spondylitis, an inflammatory, arthritic disease that causes vertebrae to fuse]. I don't have a problem remembering the songs. I don't have a problem with any of that stuff. But I do have a problem with them, constantly, the whole time, telling me that I lost my memory. No. Wrong. That's wrong. Absolutely wrong.
"But my stupid body is telling me 'No, don't do that' [stay on the road]. You know, I'm gonna be 72 years old, and I've been touring with these guys 41 years, helping build the brand, helping do this and that. And you're served with papers and going, this is crazy. This is stupid. I mean, come on."
In reference to his claims in the lawsuit stating that all bass segments were pre-recorded and certain portions of vocals and drums were not performed live, Mars commented: "Yes, on this particular tour, Nikki's bass was 100% recorded. Tommy's [Lee] drums, to the best of my knowledge, there was a lot. I can't say he did all of it recorded, but there were some reports from people in the audience that said, 'Oh, I heard the drums playing, but there's no Tommy on there. The song started, and there's no drummer.' Stuff like that. And actually everything that we did on that stadium tour was on tape, because if we didn't, if we missed a part, the tape would keep rolling and you'd miss it.
"Anyway, that was the worst 36 gigs ever had with the band," he added. "It was 36 [instead of the originally scheduled 12] because they knew I wanted to retire from it after that. [Mars says in the suit he did not want to do the extra two dozen dates that got added but went along with it.] I don't know, and I can't say I positively know, but I have a pretty good feeling that they wanted me gone anyway. Because they've been wanting that since forever. It's just frustrating for me. I'm pretty upset that they're even pulling this crap, when I carried these bastards for years."
Regarding his anticipations moving forward, having initiated this legal action, Mick said: "I think that those guys are hoping that I'll just fold and lay down. Because I've done that many times. But this thing that I helped build for 41 years, I'm sorry, you're not gonna take that from me. I worked very hard for that. It's mine. I'm keeping it. You can't have it. Sorry. But they're well prepared, I can already tell you, because I've known them that long too. But I'm not backing down. I'm not gonna fold. And we'll see what happens. I'm most definitely not afraid of them, or intimidated or anything else."