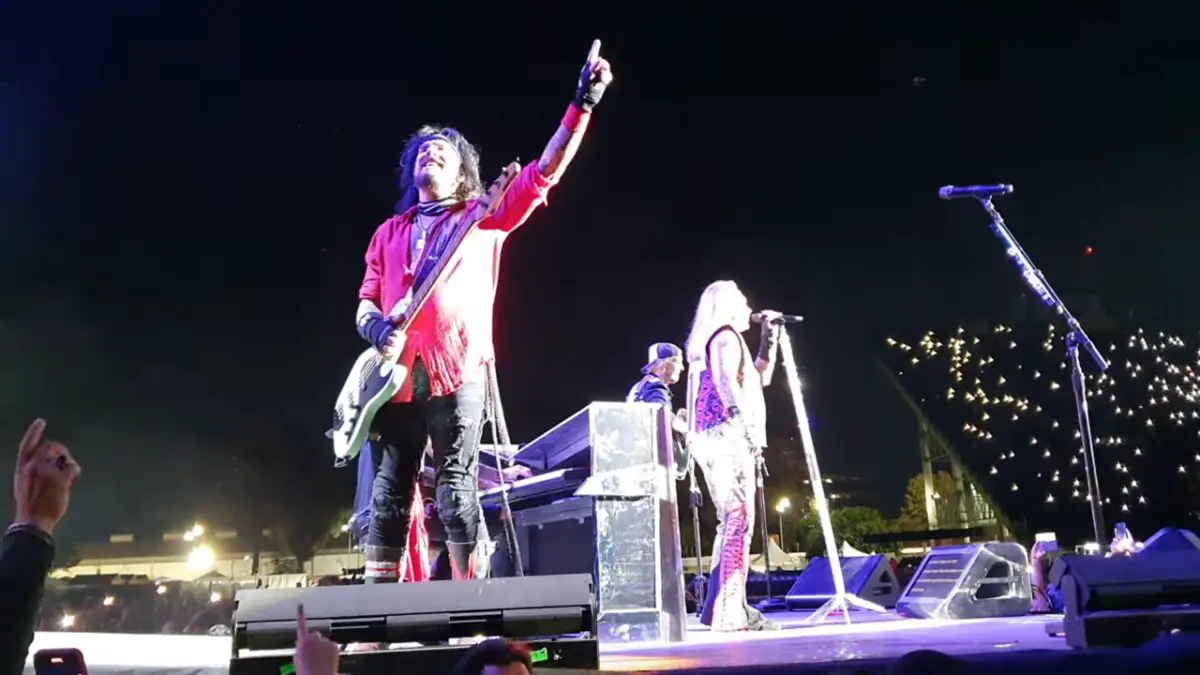 Just last week, MÖTLEY CRÜE guitarist Mick Mars gained attention as he filed a lawsuit against the band, alleging widespread use of backing tracks during live performances and accusing bassist Nikki Sixx of manipulating him into thinking he had lost cognitive abilities and guitar skills.
In the lawsuit, Mick alleges that MÖTLEY CRÜE reduced his share of earnings from 25 percent to a mere 5 percent after revealing his decision to withdraw from touring. Additionally, he states that the group's attorneys made him feel as if he should appreciate this minimal portion, as they believed they had no obligation to provide him with anything. Mick also asserts that a complete band gathering took place where they chose to "unilaterally" exclude him from MÖTLEY CRÜE.
Mick consistently alleged that bassist Nikki Sixx was "gaslighting" him by suggesting his guitar abilities were declining, even though Sixx didn't "play a single note on bass" throughout a recent tour, as stated by the guitarist. Mick asserts that all of Nikki's segments were pre-recorded.
However, after 29 years as the band's manager, Allen Kovac was so infuriated by an interview Mars provided to Variety following the lawsuit filing that he chose to publicly respond to what he perceives as the artist's most outrageous claims — such as the question of whether the majority of the group's shows are primarily pre-recorded.
Kovac highlights that he dissuaded Nikki Sixx, the band's informal head, from speaking with the media personally, encouraging the bass player to continue "taking the high road."
Allen states that Mick is releasing a series of accusations in order to gain an advantage through a defamation campaign against CRÜE.
He's attacked the band, and he's done it in a slanderous way, with false accusations and misrepresenting the facts to the fans," Allen told Variety. Mick is not the victim. The victims are MÖTLEY CRÜE and the brand, which Mick is so prideful of."
"What's upsetting to me is not Mick, but his representatives, who have guided Mick to say and do harmful things to the brand he cares about so much, MÖTLEY CRÜE. He has a degenerative disease and people are taking advantage of him. It's called elder abuse."
"Mick's representatives have no idea what they've created, but I've stopped the band from speaking about this, so they're not gonna turn the fans against Mick," he continued. "But I am going to make sure that people understand that Mick hasn't been treated badly. In fact, he was treated better than anyone else in the band, and they carried him and they saved his life."
In relation to the claims that the group heavily relies on pre-recorded tracks for their live performances, Kovac also said: "Everything is live with Nikki's [Sixx] bass playing and Tommy's [Lee] drum playing. When they've used loops, they're still playing. There are augmented vocals, which were [recorded] in the studio and are backgrounds behind the two ladies who are singing and [other background vocals by] John 5 and Nikki Sixx, and before that Mick and Nikki."
"But Nikki played his bass and always has. Vince [Neil] was singing better than he was before [on the latest tour]," he continued. "That was in reviews. Now, John 5 is playing like who John 5 is. I've heard John 5 perform and I heard Mick perform. Both are great guitar players. Unfortunately, Mick is not the same. He hasn't been the same for a long time. Which was in reviews! You see that the professionals knew. Def Leppard (which alternated headlining spots on tour) knew. And (Mars) caused a train wreck up there, because he would play the wrong songs and the wrong parts, even with the guide tracks."
"When he played the wrong song, it wasn't Nikki Sixx that had a tape; it was the soundman bringing it into the mix so the audience could hear a song, even though the guitar player was playing a different song. [Audiences] would hear it at first, but [sound engineers] would fix it so that we could keep the song going. I heard it. I'd go to the sound board."