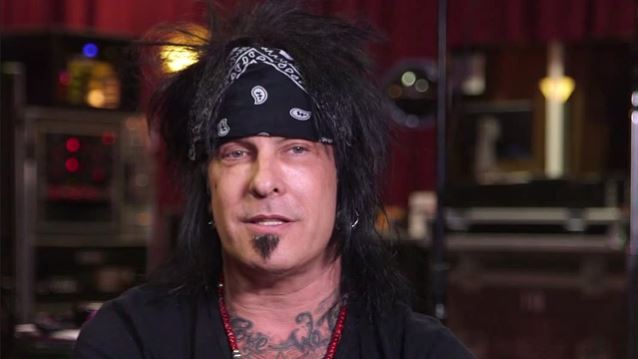 MÖTLEY CRÜE bassist and founder Nikki Sixx spoke to Australia's "The Project" about his memoir, The First 21: How I Became Nikki Sixx, which comes out today.
"I was born Frank Feranna in 1958," Nikki said. "A lot of messaging that I heard when I was a young boy about my dad and about my mom — and I ended up being raised by my grandparents — I kind of carried that with me. When I got into that time in my life when I started to become of age and the hormones and discovering rock and roll, by the time I got to a place where I was playing in bands, I didn't wanna carry my dad's name on with me.
He continued: "So I changed my name to Nikki Sixx legally and said, 'I'm moving forward.' And I did. I got my own family — everything Sixx everywhere. I actually did manifest a new life. But in writing the book, I realized it wasn't all true. My dad didn't just walk out on us. There were a lot of discrepancies. And so in the book, what I enjoyed was I got to learn a lot about my history. It kind of really helped me heal, I guess, in a lot of ways, some of the stuff, and I hope I can pass that on to other people."
In the book, bassist reveals that he stole the name Nikki Sixx from Jeff Nicholson, who, as frontman of a California cover band called SQUEEZE, went by Niki Syxx.
"I loved that name right away — even though it was missing that sweet extra K," Sixx writes, as per the New York Post. "Then and there, I decided to steal it. For a while I went around calling myself Nikki London… 'Nikki Nine' was on the table briefly."
Eventually, he went back to his original inspiration, slightly changing the spelling: "Then I thought, 'F*ck it… I'm just going to be Nikki Sixx."
New dates and tickets for "The Stadium Tour," featuring MÖTLEY CRÜE, DEF LEPPARD, POISON and JOAN JETT & THE BLACKHEARTS can be found at this location.