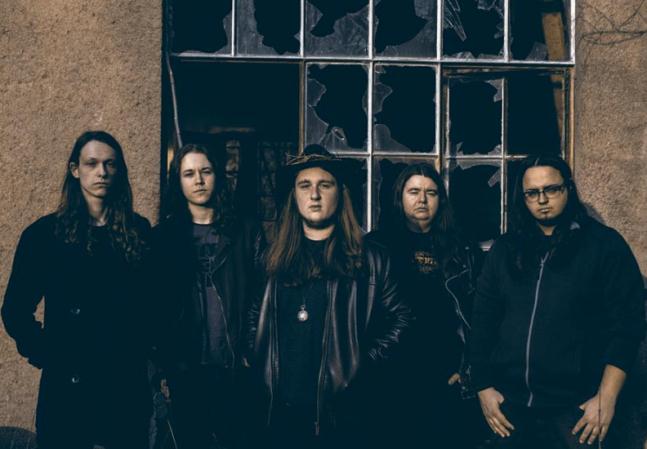 Psychedelic doom rock band, MOTOROWL released a video for an alternative version of their song "Beloved Whale" from their latest album "Om Generator"! This version was recorded live at Violet Flame Studio in Gera, Germany.
The band comments: "The 'Beloved Whale' session was a big deal for us. We wanted to capture the energy of playing together because this is the only thing that we actually can do. So we borrowed some real nice equipment from friends and went into the Violet Flame Studio for 2 days to record a special version of this song on tape. We only had a few takes, so we focused on ourselves and filmed every single take we did. Every version was slightly different and we chose the most natural one.
Nerds only: we used a Marshall JMP from 1977, Marshall JCM 800 replica, Fender Bassman Replica, Pearl Vorg 101, a 70s Orange cab, an old Gretsch drum set (26 inch bassdrum!), a Hammond Portable Organ with Leslie and a Roland RE301 Tape Echo for the e-piano. Recorded on a .Tascam tape recorder with a bunch of vintage Neumann microphones."
MOTOROWL just recently announced they will be supporting DIE APOKALYPTISCHEN REITER on their upcoming tour throughout Germany, Austria and Switzerland in October/November 2017!
MOTOROWL Live Tour Dates:
27.05.17 Sebnitz (Germany) – Wonnemond Open Air
03.06.17 Ulm (Germany) – Cosmic Desert Days
26.07.17 Hamburg (Germany) – Hafenklang (w/ Hexvessel)
27.07.17 Jena (Germany) – F-Haus (w/ Dool)
28.07.17 Rohr (Germany) – Riedfest Open Air
29.07.17 Rengsdorf (Germany) – Rockfestival
30.07.17 Breitenbach am Herzberg (Germany) – Burg Herzberg Festival
09.09.17 Fraureuth (Germany) – Open Air Fraureuth
20.10.17 Hannover (Germany) – Musikzentrum*
21.10.17 Dresden (Germany) – Alter Schlachthof*
26.10.17 Frankfurt (Germany) – Batschkapp*
27.10.17 Dortmund (Germany) – FZW*
28.10.17 Hamburg (Germany) – Markthalle*
02.11.17 Nürnberg (Germany) – Hirsch*
03.11.17 Kaiserslautern (Germany) – Kammgarn*
04.11.17 Pratteln (Switzerland) – Z7*
09.11.17 Ludwigsburg (Germany) – Rockfabrik*
10.11.17 München (Germany) – Backstage*
11.11.17 Wien (Austria) – Simm City*
16.11.17 Berlin (Germany) – SO 36*
17.11.17 Erfurt (Germany) – HSD*
18.11.17 Köln (Germany) – Essigfabrik*
*) supporting DIE APOKALYPTISCHEN REITER