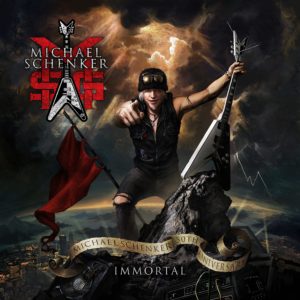 I can't help it to say how I feel to receive this new album of such a guitar legend that is Michael Schenker. The feeling, the technique, the punch, the gentle pull of strings, the finesse the man has is unnameable and, in fact, unbelievable. In short, what he did for the instrument and for Metal/Rock music can't be said in words. Unfortunately, he is most known for the problems he had with the guys of UFO and with his famous brother Rudolf from Scorpions, a band he colaborated – and helped founding – and recorded the most important albums of the band. A curious fact about him is that he was taught guitar by his brother Rudolf who he clearly outranked by far. Michael Schenker is one of the few guitarists that the fan may recognize while playing. Only two notes and "Ah, that's Michael Schenker."
"Immortal" may be the most perfect album name of all due to everything I wrote and considering Michael Schenker is 66 years old. I have to say that in my opinion all European Metal bands owe him and MSG a lot. If the fan pays close attention, many features that everybody uses nowadays were given by Mr. Michael Schenker and his band MSG. His contributions to modern Metal music are unparalleled. One of the most exciting things of "Immortal" is that there is no fixed vocalist. Here we have the best of MSG's vocals. I mean, there are the marvelous voices of Ronnie Romero, Ralf Scheepers, Joe Lynn Turner, Michael Voss and as guests Gary Barden, Doogie White and Robin McAuley. The last one is also known as the co-founder of MSG with Michael Schenker. At first MSG meant McAuley Schenker Group. The fan must pay close attention that each track follows the personalities of each vocalist with the magical touch of Michael Schenker, of course. "Immortal" is a great album for the fan who loves Melodic Metal with touches of Hard Rock. It's a pitty that some insists in labeling it as Rock. Obviosly, by the first second of it the fan will notice that it isn't.
It's very hard to pinpoint a rack from an album like this. It's not only respect, but his touch of gold changes all songs he plays. From "Drilled to Kill" to "Sangria Morte" all tracks are fantastic sampes of geniality. Facing all this, I decide to open a space here to say a little about the cover of Scorpion's "Lonesome Crow" "In Search of the Peace of Mind." The cover is pristine and shows the touch of Mr. Michael Schenker who modified it a little from its original recording. It's noticeable from the second part on.
With all due respect, but Hannover should consider giving the man a statue. Ok, name a street after him and that's it.
MSG "Immortal" will be released on January 29th via Nuclear Blast Records.
Track Listing:
Drilled to Kill

Don´t Die on Me Now

Knight of the Dead

After the Rain

Devil's Daughter

Sail the Darkness

The Queen of Thorns and Roses

Come on Over

Sangria Morte

In Search of the Peace of Mind
Watch "Drilled to Kill" official video here: