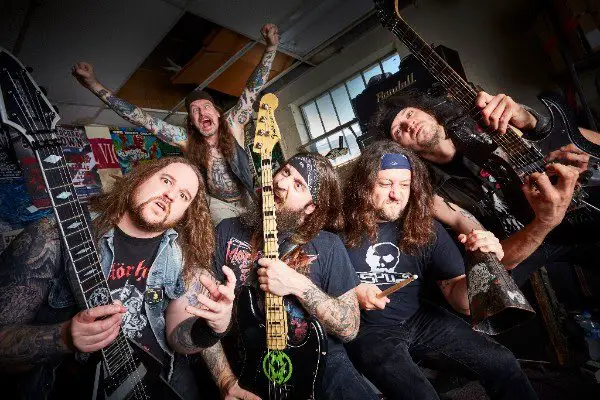 Equipped with a crushing sound that will implode both your soul and skull, Richmond, Virginia's MUNICIPAL WASTE barrel back onto the scene with their latest piece of toxic detritus, "Slime And Punishment". The Album will be released on June 23rd via Nuclear Blast Records.
The band released their fourth video trailer for "Slime And Punishment". In the video band discusses the addition of guitarist Nick Poulos. Check out the trailer below.
Ryan Waste comments:
"It's more about even playing, its a personality thing. 'Cause you are on the road, you know? You are like brothers out there. You have to get along. Nick is friends with everyone in the band. It is more personality attitude type of thing. Obviously, we play well together. Proof is on stage.But, it just made sense. He fit right in."
If you missed the release of the title track music video for "Slime And Punishment", you can check it out here.
"Slime And Punishment" Track Listing:
1. Breathe Grease
2. Enjoy The Night
3. Dingy Situations
4. Shrednecks
5. Poison The Preacher
6. Bourbon Discipline
7. Parole Violators
8. Slime And Punishment
9. Amateur Sketch
10. Excessive Celebration
11. Low Tolerance
12. Under The Waste Command
13. Death Proof
14. Think Fast
Pre-order "Slime And Punishment" in the format of your choice here.
"Slime And Punishment" is the first MUNICIPAL WASTE album to be engineered by bassist Phil "Landphil" Hall at Blaze of Torment Studios in Richmond, VA. Mixing and mastering was completed by Bill Metoyer (SLAYER, W.A.S.P., LIZZY BORDEN and DARK ANGEL) in Hollywood, CA.