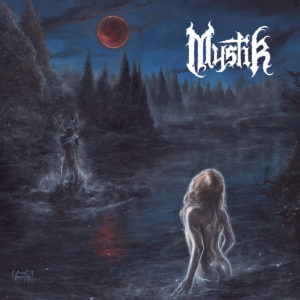 It's so rewarding to see that Speed Metal is alive with full speed – no, not a pum. Mystik follow all the rules and regulations to make a great Speed Metal effort as if it were recorded in the good old days. I'll be very honest with you my child of the night, I love it! As I am young for a longer time than most of you, I've witnessed the rise of bands like Acid, Helloween, Viper, Tyrant among many others – you've noticed that I write 'among many others' because I don't remember other names and I'm a bit lazy to search them, haven't you?  Though some may find Speed Metal a bit repetitive, for others near the tiresome, to me it almost the perfect way of Metal. Especially when the singer is someone as Julia von Krusenstjerna whose voice reminds a lot all the qualities our eternal Metal queen Doro Pesch has. Get it right, I said all the qualities of our eternal Metal queen Doro Pesch. Therefore, Julia von Krusenstjerna is not a copycat by any means. To get things even nicer, guitars in "Mystik" are so inspired making divine interventions. The guitar phrases in "Ancient Majesty" are simply superb. My feeling is that speed fits perfectly to Metal.
I confess that by the middle of the 1980s Speed Metal got a bit tiresome with so many bands, mostly European, exploring it. American Speed Metal is a bit different and less tiresome – well, if it is to use the term. But if we were to compare – you know I never compare – Melodic Death Metal bands learned a lot from Speed Metal. I mean the guitar melodies and the moods they take to their songs are mostly inspired in their predecessors. But "Mystik" is a deep dive into Speed Metal traditions and sonance. The perfect balance between anger and melody, speed and cadence. And there are also surprises as the beautiful church organ intro in "Lake of Necrosis" which breaks all the moods. By the way, if you enjoy twin guitars go straigh ahead to "Bleed for the Night" and you'll be amazed.
From where I'm standing, "Mystik" is not only an album for the ones who miss Speed Metal, it's also a refreshing moment of taking back our traditions and moods. A band as Mystik does a lot for Metal future, not only for its past, as it may seem obvious. Metal is past, present and future altogether.
Mystik "Mystik" was released on May 17th via I Hate Records.
Track Listing:
Into Oblivion
Nighmares
Ancient Majesty
Gallow's Hill
Lake of Necrosis
Hellish Force
Bleed for the Night
Mystik
Ritual Outro
Watch "Nightmares" official video here: