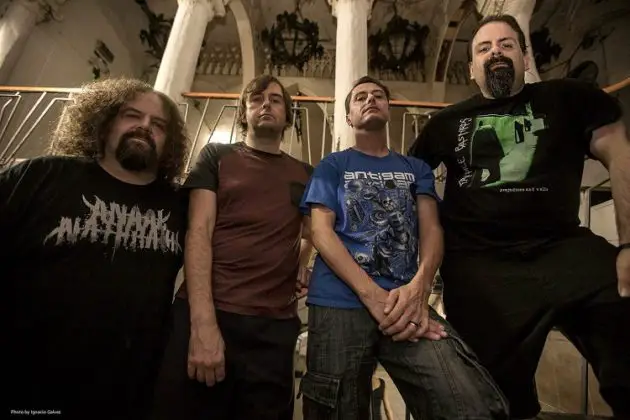 NAPALM DEATH's long-awaited new album will not be released before next year. The follow-up to the 2015's "Apex Predator – Easy Meat" will feature an appearance by guitarist Mitch Harris, who has been taking a leave of absence from NAPALM DEATH since late 2014 to focus on his family life.
Speaking to Extreme Metal Festival News, NAPALM DEATH bassist Shane Embury stated about the progress of the recording sessions for the band's upcoming disc: "The music for the new album has been recorded now since June of last year and it was done in two sessions. Mitch did come over and record guitars on the new record, but all the compositions were written by myself, which was quite a challenge to make it all flow but at the same time hopefully have diversity, which I think it has. Barn [vocalist Mark 'Barney' Greenway] has nearly recorded all his vocal parts."
He continued: "We have been playing so many shows in support to 'Apex' and, of course, the 'Coded Smears And More Uncommon Slurs' compilation, and there's more shows already booked coming up towards the end of September, so we have decided to take our time with this album. We have a strong amazing album title, but I don't think the album will be released now until early 2020."
Last summer, NAPALM DEATH supported SLAYER on the second U.S. leg of the latter band's final world tour. The 20-date trek featured additional support from LAMB OF GOD, ANTHRAX and TESTAMENT.
Greenway recently said that the door was "always open" for Mitch to come back to NAPALM DEATH. "It's whether he can do it," he told Metal Underground. "That's the thing. There's definitely no gulf between Mitch and NAPALM DEATH. He had two family deaths in the space of a month, so it was really traumatic for him. He had a lot of other stuff going on, and it was just a really bad time for him. So he had to get his life sorted out. So we'll see what happens, really."
According to Greenway, guitarist John Cooke, who has been touring with NAPALM DEATH, on and off, for more than four years, "is part of the live band, but he's not a NAPALM DEATH member, per se. He's a live guitarist," Barney said. "Which is not at all in any way to minimize his contribution or to be disrespectful. It's not. It's just that's the situation."