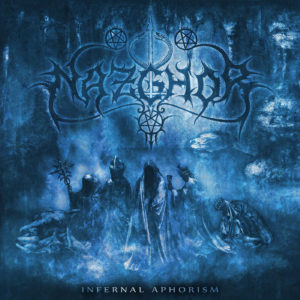 Nazghor are a band of constrasts. This effort, "Infernal Aphorism," is made of many dialectical moments. Nazghor are a black metal band that openly strikes with aggression using mad vocal lines in contrast with nieve guitar riffs which because of that built many phrases of pure beauty. In a nutshell, that's what "Infernal Aphorism" is full of. My guess is that Nazghor try to reconstruct musically the daily battle between good and evil. Vocals are evil, guitars are good. The outcome please those, like me, love that kind of musical construction.
There are some choices a band has to make when crating extreme music. One can use all the existing musical aggression possible by a combination of vocals and instrumentals. Others can slow a bit the drums and build some more melodic guitar lines. Vocals are allowed to be the sickiest possible. Nazghor chose this way. Guitar riffs are built using high notes, not the full power chords. This option allows more melodic tunes to songs. Nazghor are not a speed black metal band, except for "Malignant Possession," which is pretty fast as the ancient days of black metal. In addition  to that, in building guitar phrases, Armageddor and Angst prefer to repeat some notes in order to build mesmerizing riffs. "Infernal Aphorism" is full of them, and that's the stappler of Nazghor.
In my humble opinion, I point two songs that feature Nazghor very well. They are "Malignant Possession," because of its speed which highlights guitar riffs, and "Absence Of Light" because it can make the listener fell as if there was no light at all. "Absence Of Light" is a rare song that actually mean the title. The piano intro and the slow cadence do a pretty good job to, in some moments, speed everything up and bright some dark and dense feels. Those two songs,  "Malignant Possession" and "Absence Of Light," resume pretty well Nazghor "Infernal Aphorism." And for me, the best thing was that the nieve guitars in "Rite Of Repugnant Fury" made me travel back in time.
Nazghor "Infernal Aphorism" is a breathtaking effort. It's powerfull, punchful,  and with moments of pure evil beauty.
Track Listing:
Opus Profanus
Malignant Possession
Decretion At Eschaton
The Darkness Of Eternity
Deathless Serpent
Rite Of Repugnant Fury
Ephemeral Hunger
Spawns Of All Evil
Absence Of Light
Infernal Aphorism
Nazghor "Infernal Aphorism" will be released on October, 13th via Non Serviam Records.
Watch "Decretion of Eschaton" official video here:
https://youtu.be/cF30erRh7CQ