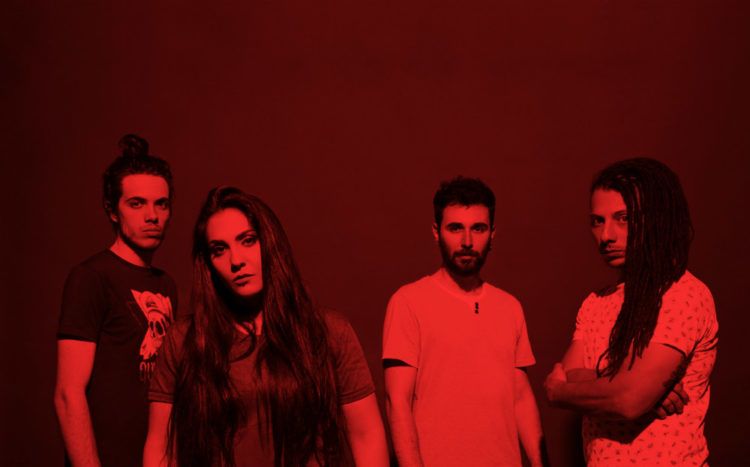 The NEBULAE project was born in Italy in 2014. A conceptual project inspired by science, the universe and the nebulae from which the band takes its name. NEBUALE shared the stage for a featuring with the world's international star Tatiana Shmayluk of  JINJER in their very first Italian date, with whom they returned in 2016 to share another incredible live performance. 2015 is an exceptional year for this Italian quartet, we see them sharing the stage with bands such as Destrage, Infected Rain, Stormlord, Crazy Town and Cadaveria, up to 2018 and they are featuring with The Contortionist. In 2017 Nebulae started the production of the album Carbon, released in the spring of 2018. NEBUALE released their second work Pulse on October 18th of 2019 via Time To Kill Records!
The new album, titled Pulse – is the basis of what animates them, of what makes them resistant events. It represents a human's primordial instinct to improve and evolve. The sequence of tracks into the album examines the unfolding of human experiences that lead the human being to evolve and fight over the centuries, a process marked by everything he has faced and is still getting ready to face. NEBULAE has a mission: to make people understand peace through a specific mantra: "Listen. Understand. React."
Hereby Nebulae states:
"In this video, our very microcosm comes to life. Frame after frame the strength and the happiness which characterize all our live performances are publicly displayed. They are what we want to pay homage to! With Potato's release we wish to make you live this experience again, we want you to leave with us for an incredible journey! To celebrate this special occasion we have created our new brand contest: #everythingnebulae"
NEBULAE's aim is to create powerful music that is able to connect all the human channels, combining the body's ethereal and philosophical components with the chemical and scientific ones. The album with its varied and intensively composed songs will surely appeal to fans of GOJIRA, TESSERACT, DEFTONES, JINJER and KLONE.
Pulse tracklist:
1. Trapped
2. Dawning
3. Removal 
4. Bend Down
5. Poors  
6. Bite
7. Smother
8. Control 
9. Dust