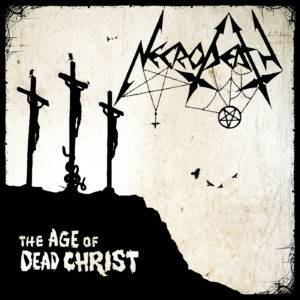 Old school bands are always old school bands. Old dogs always learn new tricks. Even the most extreme one has a finesse that is hard to explain to new bands. Necrodeath do that pretty well. Perhaps it is why they prefer to be simple, but effective; maybe why they have other influences; seriously, I really do not know. In fact there are more guitars in here. Maybe that. "The Age of Dead Christ" is an effort of powerful guitars with sharp solos, fast riffing and consistent rhythm. In my time "The Age of Dead Christ" would be a black metal effort. Now they tell it is a blackened thrash. Okay, then. On second thought, it would be called black/thrash metal. Not really that different.
One funny fact about "The Age of Dead Christ" is that it reminds a lot a faster Metal Church. I mean, the same intense vocals, the capricious instrumentals with lots of tempo and intensity changes. Necrodeath have the ability to make you wonder how the next track will be. Nothing in their music makes you believe that next track will follow a standard. Point to Necrodeath. Tracks are about the three or four minute range, but as I told before, there is no way of predicting what will come next. Pay attention to the sequence "The Kings of Rome," "The Triumph of Pain," and "The Return of the Undead." Really not predictable. Another point to Necrodeath. Another funny fact is that all nine tracks begin with "The". Is that a coincidence?
"The Age of Dead Christ" is Necrodeath's 11th album and shows us a very mature band with 33 years of career. Hey, the age of dead Christ, 33 years? Another coincidence? No, not at all. Ah, "The Age of Dead Christ" will be released on March 30th, which is a good friday. Nah, not a coincidence either. In fact, all things are related in this effort, even though it is not a concept album – Necrodeath gave no reference of that -, the feeling is that all tracks are linked. In the most wicked way.
Necrodeath's "The Age of Dead Christ" will be released on March 30th via Terror From Hell Records. Available only in gatefold LP. Finesse, my friends, finesse. Necrodeath are teaching a lesson in here. Pay attention, kids!
Track Listing:
The Whore of Salem
The Master of Mayhem
The Order of Baphomet
The Kings of Rome
The Triumph of Pain
The Return of the Undead
The Crypt of Nyarlathotep
The Revenge of the Witches
The Age of Dead Christ
Watch "The Triumphy of Pain" official video here: