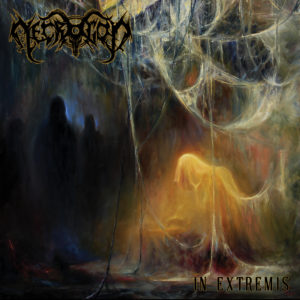 I confess that is always a thrill when I open an archieve from Transcending Obscurity Records. The expectation grows bigger due to the tradition of having amazing Death Metal bands. And the tradition was de rigueur kept right from the beginning with Necrogod, a band that I've heard about but never had any listening contact. This album "In Extremis" shows a mature and straight ahead though keeping the high quality instrumental standard.
Opening track "Bringers of Blasphemy" is a direct puch in the face as all opening tracks should be. Its hallucinating cadence takes the fan far beyond and forget all about the hard days we're living. That's a desired feature all Metal bands shoud fullfil, this ability of making their fans travel somewhere else without the need of anything else. Just the music. "Bringers of Blasphemy" does it and pass the opening test with flying colors. Following track "In Mortal Confinement" slows down a little as a tradition most Death Metal bands are keeping of varying the cadence to something more cadenced and slow, however full of energy. The Necrogod's bass does a very important role in the music performance here. It gives the most important lead to the insane cadences the band performs here. It's hard to find a band that values the bass so much as Necrogod do. Pay attention to the break in "The Brutal Path (Straight To Hell)" and note how the bass holds the pace and the song. Very interesting the guitar riffing in "Remain the Same Again," no pun intended but it doesn't remain the same nor does the same. I find very interesting this dosing of faster and slower track as Necrogod do a lot here in "In Extremis." "The Obsessive and the Deranged" and "In the Reign of Gore" are faster themes that break the general mood of the album. Is it just me or everybody else thought the intro of "When Madness Has Taken Control" reminds a lot Black Sabbath's "Eletric Funeral"? Maybe a new and more insane version of it.
Here's an album that keeps the tradition. Of course, in the good way because the way I see it Metal bands, more notably, Death Metal bands are meant to be against some kind of traditions. "In Extremis" doses pretty the cadences and the outcome is a breathless album. Death metallers won't regreat having it in the collections or playlist.
Necrogod "In Extremis" will be released on July 23rd via Transcending Obscurity Records.
Track Listing:
Bringers of Blasphemy
In Mortal Confinement
The Brutal Path (Straight to Hell)
Remain the Same Again
The Obsessive and the Deranged
In the Reign of Gore
When Madness Has Taken Control
Moribund
Transcending to Persist
Watch "In Mortal Confinement" official video here: