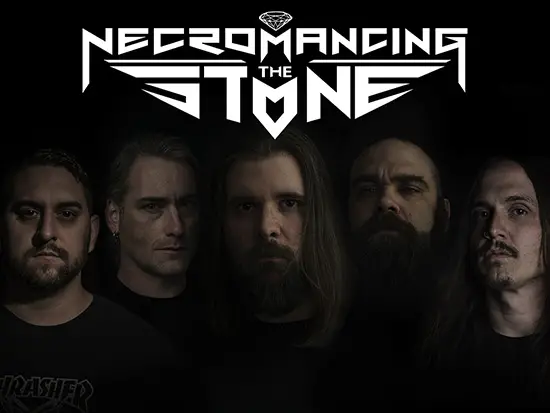 With their upcoming debut full-length, "Jewel Of The Vile", due out August 5th, NECROMANCING THE STONE – featuring current/former members of ARSIS (James Malone, guitars), The Absence (Jeramie Kling, drums), The Black Dahlia Murder (Ryan "Bart" Williams, bass) and Brimstone Coven (guitarist Justin Wood and vocalist "Big" John Williams) – plans to vanquish "Breakdownicus Gratuitous" with 11 tracks that are uniquely NECROMANCING THE STONE.
Lyrics video for "The Decent" has been released and it can be seen below.
Featuring artwork by Ariel Zucker-Brull and guest appearances by Taylor Nordberg (The Absence,Infernaeon) and Jeff Loomis (Arch Enemy, Nevermore, etc., etc.), "Jewel Of The Vile" immerses the listener in fantastical tales, like those found in fantasy novels, or in the playing of an intense game of D&D. The sparing inclusion of death metal growls for characters within the stories adds an extra dynamic to the already epic vocals, which are backed by gigantic riffs and pulverizing rhythms. From the moment the aptly titled "Crusher" rushes from the speakers, NECROMANCING THE STONE own you. True heavy metal fans, look no further – your salvation has arrived with "Jewel Of The Vile"!
"Jewel Of The Vile" track-listing:
1. Crusher
2. Bleed for the Night
3. The Descent
4. The Siren's Call
5. Ritualistic Demise
6. The Old One
7. Rotted Reunion
8. Unfinished Business
9. Honor Thy Prophet
10. From Graves to Infamy
11. The Battle of Morningstar