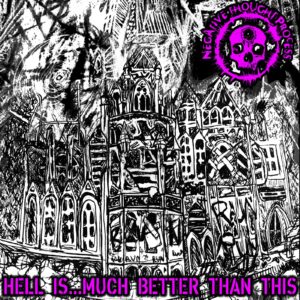 Unfortunatelly, I can't be as brief as "Hell Is Much Better Than This" as I have a limit of words to write here. Seriously, this EP has six tracks with a length of around fourteen minutes!
I know that for a grindcore band is not that much, but the thing is that Negative Thought Process don't sound exactly as a grindcore band. From where I'm standing, they are much more a Hardcore band with some touches of Modern Extreme Metal. I confess that the way this album goes with so short songs confuses a little my mind. I'm not so used to Hardcore, though I have to say that I'm getting to it more and more. "Hell Is Much Better Than This" doesn't regular to a Hardcore fan I must say. Its sonance is much more near Extreme Metal, as I said before. The features this album is all about are from Grindcore is more the concept and the length of the songs which are in an average of one and half minutes. Well, enough I guess to pass all the desiderium of ideas, isn't it? Fun fact is that I take more time to write a paragraph than to listen all the album. I don't have the time to process and write about them. Ok, whatever.
Title and opening track "Hell Is Much Better Than This" sounds a lot as Death Metal, but the fan feels there is something different, and this is the voice and its anger. That's the deal with Negative Thought Process, the instrumentals are Metal driven, but vocals are Hardcore driven, and the fan notices that in all tracks. "I Am Scum" and "Cognitive Dissonances" are the ones which sound near Grindcore although they aren't ultra-speed- velocity as expected, but they are fast enough. The angry growls take over the songs giving the fan the feeling that the band wants much more. Little by little the instrumentals and vocals get connected with a more Grindcore and Hardcore direction as "Stagnant" and "Festering in Ignorance" show us. However, the guitars are still more Metal than everything, the bass sounds pretty much Hardcore.
I said that I love edgy bands, and Negative Thought Process are here to test me. Last track "Force Fed Life" reminds a lot Rage Against the Machine with its guitar squeaks. Well, well, well.
Negative Thought Process "Hell Is Much Better Than This" was released on April 24th via Hibernacula Records.
Track Listing:
Hell… is Much Better Than This
I Am Scum
Cognitive Dissonance
Stagnant
Festering in Ignorance
Force Fed Life
Watch "Cognitive Dissonances" official video here:
874