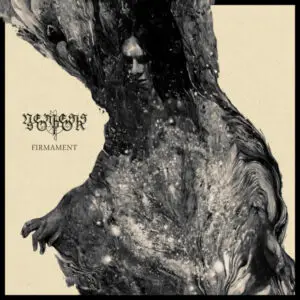 Sometimes the less expected albums bring the biggest surprises. "Firmament" is not the first album we receive that follows a sonancy that I insist on calling Progressive Black Metal. I insist because I guess this album has many features to be considered this way. Not the other. Nemesis Sopor invested hard on some classical music features especially on vocals and on some instrumentals. Ok, those features aren't exclusive of a Progressive band, but more of a Symphonic. However, the way the band uses those features is the key to what I support. "Firmament" is a thick album with some layers of instrumentals and vocals that interwoven together in a very insteresting and intriguing way. The mix of classic music textures with Black Metal vocals is really something to wonder about. It's a combination that really surprises because it's so unusual. To some extent, there's something of a mockery in a classic music base with a witch's voice to it.
The album opens up with the long "Detritus," which by the tittle shows the mockery I was talking about. The sonic impression of the initial moments of the song is amazing. It's real kiling sequence of guitars and drumming that fills out all the possible moments of the song. The fan feels the blast in the face. Then the song cools down and the vocals I was talking about start. They more of chantings, if my dear child of the night knows what I mean. Soon, everything changes again and the killing guitars and drumming take over with the witch like vocals that truely sounds as a mockery. In this twelve minute song many kinds of vocals and musical textures are tried. Thats exactly where I tend to label as "Firmament" Progressive. The sequence of the clean guitars with some echoes and choruses show that Progressive vibe. It's not only the sound, but also the intent. Many changes of heart will happen during the twelve minutes. Maybe "Argus" is the track shows this Progressive vibe more clearly. It starts with a delicate strumming with some notes that get in the way. It could be in any album of any Progressive band of this sad and lonely and pathetic little planet. It reminds a little the constructions Judas Priest used to make in their early albums. Vocals again change everything. Both the witch and the chantings.
Well, "Firmament" is in some way a tricky album. The fan may think it's a standard Black Metal album but the album is everything, but standard. It's totally worthy a look. One interesting fact about "Firmament" is that it's exactly 50 minutes long.
Nemesis Sopor "Firmament" will be released on March 03rd.
Track Listing:
Detritus
Argus
Apsis
Paresis
Monument
Wall
Watch official video here: