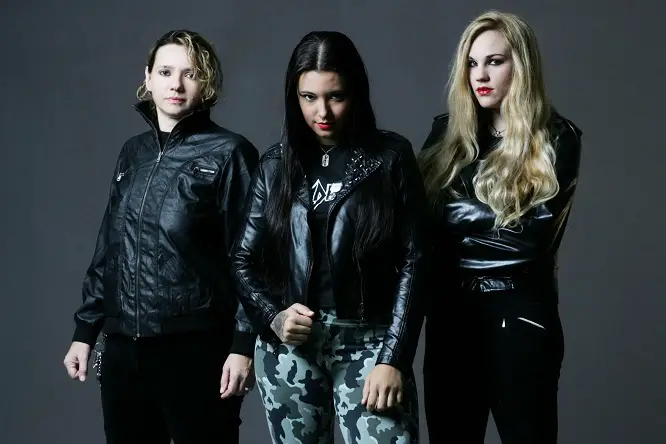 Welcome on the hill, ladies!
METAL ON THE HILL Festival proudly presents the all female Thrash crew NERVOSA on the line-up bill!
The first edition of METAL ON THE HILL was a huge success! Perfect weather conditions, 1700 celebrating fans and highly motivated top acts have placed METAL ON THE HILL firmly on the international festival map.
The dates for METAL ON THE HILL 2017 are already fixed! Save the dates: On August 11th and 12th 2017 international top acts will again make Schlossberg Graz erupt!
Headliners BLIND GUARDIAN and PARADISE LOST will find their way to Graz for each a very special and exclusive Austrian show in 2017! Scottish Pirate Metal outfit ALESTORM, and Pagan giants ARKONA will also all play exclusive Austrian shows. Brazil`s meanest power trio NERVOSA will drag its fans down into a malicious maelstrom full of old school darkness! Popular Symphonic Metal acts SERENITY and VISIONS OF ATLANTIS will deliver the finest symphonic bombast on top of that bill! More acts will be announced shortly! Stay tuned for many more exciting news to come!
More Info On METAL ON THE HILL:
NAPALM RECORDS and it's own booking department NAPALM EVENTS have awakened all of Austria from its slumber, as Graz hasn`t seen a rock and metal-only festival in ages! The city of Graz was a perfect host to the metal community from all around the world. In cooperation with "Spielstätten Graz"METAL ON THE HILL Festival takes further steps and has already been confirmed for the next round in 2017 – both days on Kasemattenbühne at the picturesque "Schloßberg".
Directly beneath the highest point of Styria`s capital – the plateau of the Schloßberg – lies Graz` most popular open air event location: the Schloßberg stage Kasematten. A stage plus a vast auditorium in the old fortress walls was erected in the 1930s – an absolute trademark of the city! Especially during summer nights and open air events the place is brimming with darkly romantic atmosphere. A sliding roof protects the audience from any unruly weather to the unforgettable majestic, stately backdrop that is fiercely guarded by the festival mascot – the Styrian Panther. This venue is definitely Graz` most unique event location. Catch a glimpse of the stunning location here: Kasemattenbühne