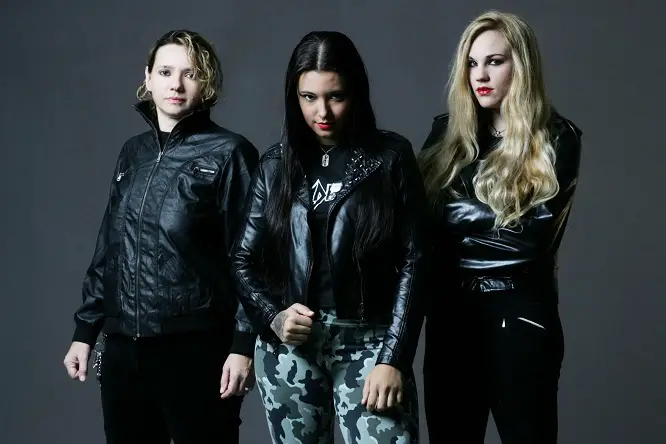 Brazil`s meanest power trio have returned: NERVOSA indulge in relentlessly raw all-female thrash metal on their second studio album "Agony" that almost effortlessly merges the energy of the glorious 80s with the refined aggression of this millennium.
These three girls are about to hit the road all over Europe for a huge tour. We already posted an audio premiere of their new track "Hostages", but now they have released a brand new music video for it, which can be seen below.
Their second studio album "Agony" will be released on June 3rd via Napalm Recods. You can pre-order it HERE.
Vocalist/bassist Fernanda Lira on the track:
"On this song we talk about a situation that unfortunately is pretty common here in Brazil, and I think in many other countries around the globe. Because of bad corrupt politicians that don't take care properly of society's basic needs, like quality health system for example, many people die on hospital aisles every day. So, we decided to picture this problem in a very 'bloody' way on the video, that is sadly not even close to the horror that happens in the real life of people that depend on public hospitals!"
Find all Tour Dates listed below:
03.06.16 NL – Tilburg / Little Devil
04.06.16 BE – Erpe-Mere / Summerrock Festival
05.06.16 NL – Gorinchem / Stichting PoGo
07.06.16 BL – Liege / Smile Café
08.06.16 UK – London / The Def
15.06.16 DE – Hamburg / Bambi Galore
16.06.16 DE – Berlin / Sage Club
03.07.16 FI – Helsinki / Tuska Festival
06.07.16 DE – Magdeburg / Flower Power
08.07.16 DE – Geiselwind / Out & Loud Festival
09.07.16 DE – Nordheim / Sunstorm Festival
15.07.16 CH – Bôle / ParaBôle Festival
16.07.16 IT – Somma Lombardo / Rock Inn Somma Festival
18.07.16 ES – Madrid / Gruta 77
19.07.16 ES – Sevilla / Sala Fanatic
20.07.16 ES – Valencia / Rock City
21.07.16 ES – Barcelona / Boveda
24.07.16 DE – Weil am Rhein / Baden in Blut Metal Open Air
Tour /w DESTRUCTION:
15.09.16 CH – Pratteln / Z7
16.09.16 DE – Munich / Backstage
17.09.16 IT – Brescia / Circolo Colony
18.09.16 DE – Ludwigsburg / Rockfabrik
21.09.16 FR – Strasbourg / La Laiterie
22.09.16 FR – Grenoble / La Belle Electrique
23.09.16 FR – Marseille / Le Moulin
24.09.16 FR – Toulouse / Metronum
25.09.16 ES – Barcelona / Razz2
27.09.16 ES – Sevilla / Custom
28.09.16 PT – Lisabon / RCA Club
29.09.16 PT – Porto  / Hard Club
30.09.16 ES – Madrid / Arena
01.10.16 ES – Bilbao / Santana 27
02.10.16 FR – Paris / La Machine
04.10.16 UK – Glasgow / Audio
05.10.16 IR -Dublin / Voodoo Lounge
06.10.16 UK – Manchester / Club Academy
07.10.16 UK – London / Underworld
08.10.16 NL – Rjissen / Lucky
09.10.16 NL – Drachten / Iduna
11.10.16 CZ – Prag / Storm Club
12.10.16 DE – Nürnberg / Hirsch
13.10.16 DE – Siegburg / Kubana
14.10.16 AT – Dornbirn / Conrad Sohm
15.10.16 BE – Hasselt / Muziekodroom
16.10.16 DE – Mannheim / 7er Club