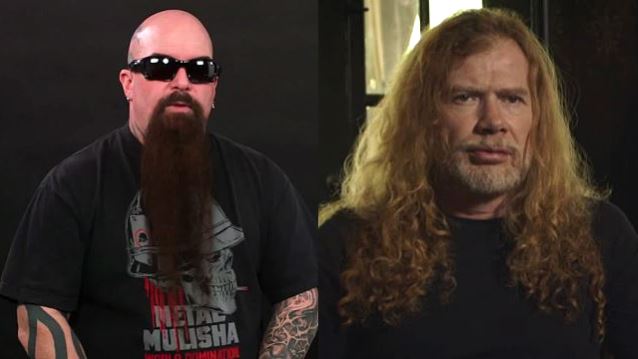 TickX.co.uk has reported that SLAYER will be continuing their "farewell" tour with a rebooted "Clash Of The Titans" tour, also featuring MEGADETH, SEPULTURA and TESTAMENT.
Although the tour has been rumored for several months now but hasn't yet been confirmed or denied by an official source, it has been suggested that the rebooted "Clash Of The Titans" could be SLAYER's last-ever tour before they call it quits after nearly 40 years on the scene.
If the tour does come to fruition, it won't be the first time that SLAYER, MEGADETH and TESTAMENT have toured together. Those three bands, along with SUICIDAL TENDENCIES, took part in the original "Clash Of The Titans" tour in Europe in 1990. There was a different lineup for the U.S. version of the tour, which took place in 1991 and featured three of the "Big Four" of thrash (MEGADETH, SLAYER and ANTHRAX) and ALICE IN CHAINS.
SEPULTURA are the only band of the rebooted "Clash Of The Titans" that didn't participate in the original tour, although according to now-former singer Max Cavalera, they were slated to be the opening act on the U.S. leg but dropped out at the last minute, with ALICE IN CHAINS replacing them.