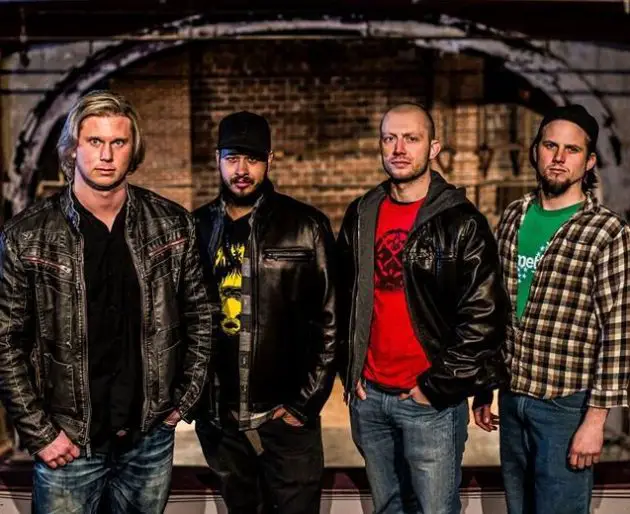 New England Hard Rock/Metal act MAMMOTHOR have released their new LP, "DEVOTION LOST", which debuted at #3 on the New England-based Bull Moose charts. The album was recorded at New Alliance Audio in Cambridge, MA (Godsmack, Powerman 5000), mixed and engineered by Kyle Paradis (I Was Awake), and mastered by Jay Frigoletto (Alice in Chains, Shinedown, Tesla, Nonpoint) at MASTERSUITE. "DEVOTION" is 12 tracks of full-on East Coast Rock fury, becoming the #7 most-added album at Metal Radio. Now the band released lyrics video for their "Faith Healer" track. Check it out below.
"DEVOTION LOST" sees MAMMOTHOR, long a staple in the New England Rock scene who have shared stages with the likes of Living Colour, Saving Abel, Fuel, Powerman 5000, Orgy, Eve 6, Hinder, Ted Nugent and more, vocalist Travis Lowell, Josh Johnson (guitar), Dana Sharpton (guitar), Dusty Mulholland (bass – studio only), and Nick Raby (drums) straying drastically at times from their blues rock roots and delving into bold, progressive new territory.
Opener "Howling Baying Jackal" recalls classic heavy metal in the vein of Iron Maiden, followed up by "Skin" an edgy alt-metal burner, with a dark, chanting core. The lyrics to "Skin" additionally provided inspiration for the eye catching album art on Devotion Lost, created by Italian graphic designer Maurizio Piccinelli. First single "Faith Healer" sees the band settling into a more classic hard-rock style with a tune that's radio-ready while still maintaining a dark, progressive Metal edge. The back-to-back duo of "Shadows of Oblivion" and "Elusive Engineer" sees Devotion Lost making perhaps the most stark stylistic shift; from screaming vocals and guitar driven heavy metal on "Shadows" to a melodic, moody ballad in the form of "Engineer".
The album is rounded out by "Blood-Soaked Candy Heart", "a twisted love story," according to vocalist Travis Lowell, followed by the band's re-imagining of their previous track "Tyrannicide", and the crushing, "Pillar of Simeon".
Track List:
1. Howling Baying Jackal
2. Skin
3. Anatma
4. Faith Healer
5. Shadows of Oblivion
6. Elusive Engineer
7. This Is Not An Exit
8. Generation Thief
9. Blood-Soaked Candy Heart
10. Launch Pad
11. Tyrannicide
12. Pillar of Simeon