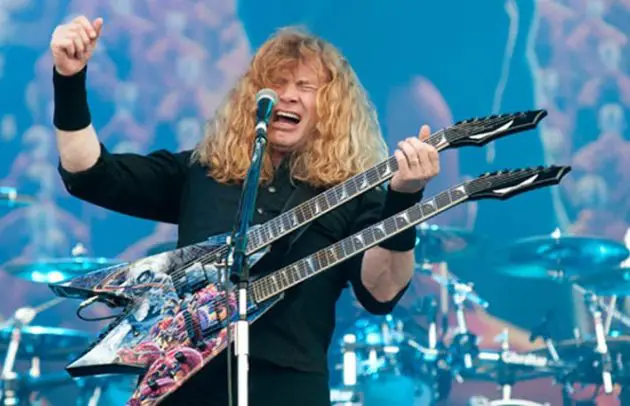 In a new interview with SiriusXM's "Trunk Nation With Eddie Trunk," Dave Mustaine about the upcoming MEGADETH album, The Sick, The Dying, And The Dead.
Regarding when fans can expect to hear some of the new MEGADETH music, Mustaine said: "We know that the whole entire thing is scheduled for July 8th. And the hopes are that we stay on schedule with that. And I know that we've got a single that is gonna be serviced to radio any day now.
"It's a song called 'Killing Time.' Obviously, that's [written about] somebody in my past, but it's not as obvious as it sounds; it's wasting your time, not time to kill things. And it had to do with some of the situations that myself and the different band guys have gotten themselves into with the band over time. And I'm sure a lot of people are gonna relate with that. So that one, it's gonna be sent to radio, gosh, any day now."
When asked if MEGADETH will perform a new song on the upcoming 2022 leg of "The Metal Tour Of The Year," which launches later this month, Mustaine said: "We have this track called 'Night Stalker,' and we're hoping to use that as our new opening track. None of us are together yet, so we haven't had a chance to sit down and start getting all the hiccups worked out of the track other than when we were in the studio together. But once we use that for our opening track, it's got some sounds in it that is something we're gonna incorporate into the beginning of our show. And it's a track that we have… my buddy Ice-T had guested on."
Several days ago, Mustaine revealed that Steve Di Giorgio played bass on upcoming album. Due on July 8, album features a cover of DEAD KENNEDYS' "Police Truck" and Sammy Hagar's "This Planet's On Fire," the latter of which includes vocals from Hagar himself.
Dave Mustaine has previously confirmed that James LoMenzo will play bass for MEGADETH when the band returns to the road in April for the second U.S. leg of "The Metal Tour Of The Year."
Joining them will once again be co-headliners LAMB OF GOD along with special guests TRIVIUM and IN FLAMES. Tickets and dates for upcoming "The Metal Tour Of The Year" can be found here.