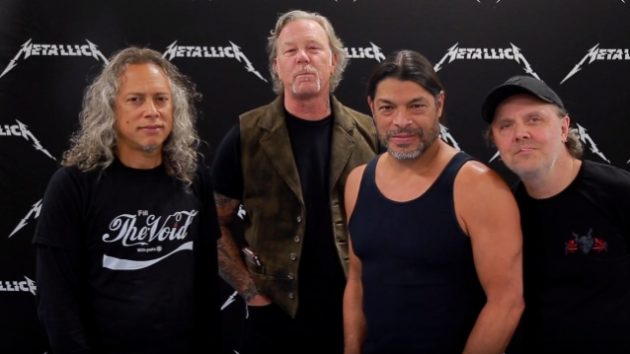 In a new interview with Vinyl Guide, METALLICA bassist Robert Trujillo talked about the band's new material.
"We communicate every week, which is really great, so we have our connection intact," Trujillo said. "And what we've started doing is basically just really concentrating on our home studios and being creative from our homes and navigating through ideas and building on new ideas.
"And that's where we're at right now. We're excited about cultivating new ideas, to be honest. And everybody's in a good headspace, for the most part, and that's pretty much our focus now. 'Let's have fun with this.' That's part of the reason I got some updated recording-gear and I'm putting ideas together and we're checking each other's vibes out on new stuff. And that's pretty much where we're at; we haven't talked about touring lately.
"I'll tell you, we just did nearly three years on the Hardwired album and, of course, Australia [where the interviewer is from] is one of my favorite places on the planet to go play, and South America as well, so we will get back down there. I'm not too worried about that; I know we will.
"Obviously, we've gotta get through this quarantine and all this stuff that's happening with that," he continued. "In the meantime, we're creating, and I think that is really cool 'cause sometimes it takes a while to get the band together and get four individuals who are living in different places in the same room.
"But it's like, 'Hey, guess what? We don't have to be in the same room right now.' We can make music from our homes and work together and build stuff, and then we'll get in that room together and we'll bang the stuff out, but we'll be 40 steps ahead."
Trujillo added: "There's no definite plan as to a release date; I mean, we're just sort of now cultivating the terrain and getting kind of excited about it, to be honest. It's kind of a cool thing that we've been able to start focusing on that 'cause it's new for us, we haven't done it this way.
"I don't think many people have done it this way. Everybody's gotta kind-of restructure their routines and their creative flow. And at some point, all this will transition into what it's gonna transition into and we'll have live shows again. And I'm sure there's gonna be a lot of new music coming 'cause most musicians are writing new stuff right now, and that's exciting to me."
METALLICA's latest album, was released as a double album in November, 2016. It is their first studio album in eight years following 2008's Death Magnetic, marking the longest gap between two studio albums in the band's career.