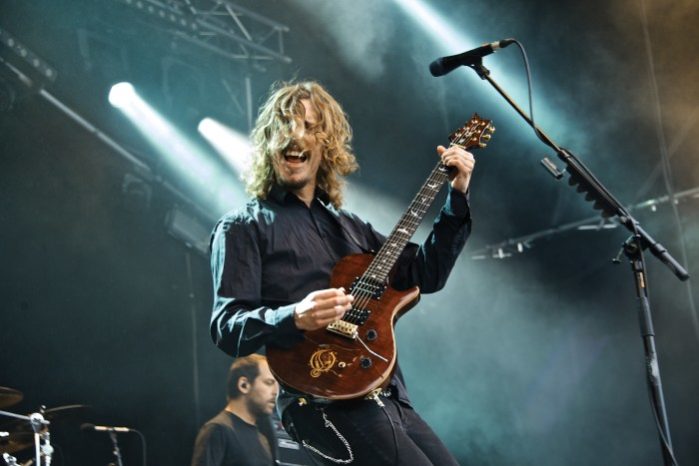 As transcribed Ultimate Guitar.
During a conversation with Revolver, Opeth singer/guitarist Mikael Akerfeldt talked about the band's upcoming 13th studio album "In Cauda Venenum," due out on September 27 via Nuclear Blast.
Asked on why the effort was written in secrecy, the musician replied:
"Well, sort of. We had toured and I was meant to go on a break. I was tired of touring, tired of being the band-guy. I said to the management and everybody, 'I need a sabbatical.'

"So I was going to go away for some time and just be with my children and my girlfriend. But they, of course, went off to school or work, and I'm sat there on my own.

"And if I'm not doing anything, I feel useless. I can wash the car or clean the house, do the dishes and cook and grocery shop, but when that's all done, I feel useless. So I had to get going.

"I went down to my own little studio just to make sure everything still worked and to see if I could remember what buttons to push. Then I wrote a riff, and off I went. So my sabbatical started in November or December of 2017, and by January of 2018, I was in the studio working."
But at some point during that process, you made a decision to not tell anyone you were working on music until it was done…
"Right. I was kind of halfway through and I thought about texting the manager. But then I thought, 'Should I send it?'

"Because the moment I do, he starts making plans – for tours, for press trips like I'm on now [laughs] – he's starting to plan for time away from my children.

"He's like the enemy in that case, if you know what I mean. [Laughs] So I didn't want that, really. I just wanted to enjoy it. And that I did. I had more fun than I can remember."
Has writing not been fun in the past?
"No, it is fun – but I tend to forget because writing and recording is such a short segment compared to how much you tour and talk about the record. It's just a piss in the ocean, you know?

"I love being on stage with the guys and I love hanging out with them after the show – it's, like, family away from home – but it's so fragile, that little bubble we have. It just takes a punisher to walk in, and I just wanna leave.

"But that time we have when we're alone and when we play? I love that. But I tend to forget all that and get all negative and talk about the band like I don't love being in it. But I do. And I especially like the writing."