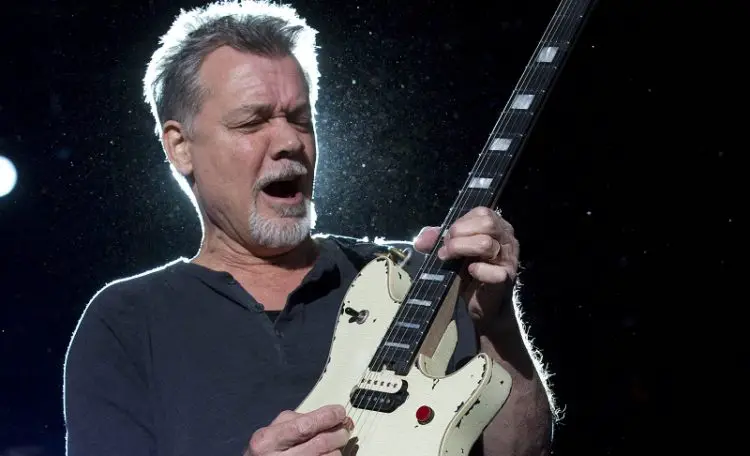 A brand new photo of Eddie Van Halen has emerged online after Sue Dion, who works as a receptionist at O'Gara Group in Beverly Hills, California, posted a photo on Instagram picture of her with VAN HALEN guitarist, apparently taken on Saturday (Oct 19) when Eddie visited her workplace.
She posted the following caption with the photo: "I've had a bad week, so please indulge me in this gushing post.
"I love my job. I love the cars, I love my co-workers and I love the clients.
Admittedly, I've had more than my share of cool things that I've done in my life.
"Co-worker: "Sue, today you got to make out with a rockstar." ? Yes… I…did! ?
"Today will forever be the day I kissed…Eddie Van Halen!!! ?
"My mom wouldn't let me go see them when I was 14, so it only took 35 years for the universe to right that wrong.
"Absolutely the sweetest guy–with a twinkle in his eye.❤️ I told him that today he made me the coolest kid in high school. ?. Never in my… wildest… dreams.
"Eddie, you have no idea how much you made my day. Thank you for just being you. ?"
The photo had since been taken from Instagram, but it's re-posted by Van Halen News Desk and can be seen below.
TMZ recently reported that Eddie was diagnosed with cancer nearly 20 years ago and has been travelling between the United States and Germany for treatment.
Back in 2000, shortly after he was diagnosed, doctors removed around 1/3 of his tongue.
Sources told TMZ that Eddie has flown to Germany for 5 years to get radiation treatment, and for the most part it's worked to keep the disease in check.
Eddie's friend and TOTO guitarist Steve Lukather told The Eddie Trunk Podcast in September that 'There's been some health issues that they're [VAN HALEN brothers] dealing with and stuff like that."
He continued: "We're older guys now, and to go on the road, and stuff like that, it requires a lot of extra effort in terms of as a human being."