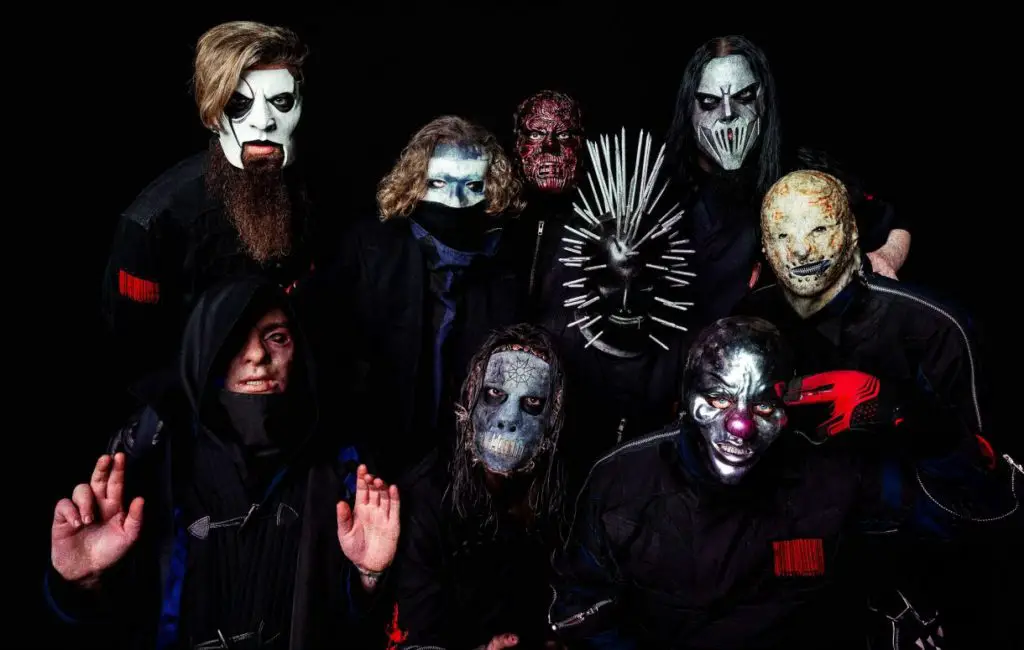 During his recent appearance on BBC Radio 1, Corey Taylor talked about SLIPKNOT's upcoming album We Are Not Your Kind saying it's the furthest the band "pushed the boundaries of creativity and experimentation.
He said: "As a whole — and I can say this honestly — it is probably the furthest we've pushed the boundaries of creativity and experimentation, while also not losing our identity.
"There are bands out there who, they go for all of that experimentation and they forget who they are — they forget that there's an audience that wants to hear a certain type… It doesn't have to be the exact thing, but there has to be a certain emotion that they are looking for, that they wanna hear… There has to be that touchstone.
"You can go as far out as you want, but you have to be able to pull them back to that feeling that made them fans in the first place. And I really think we did that with this album. We not only went places that we've hinted at, musically, over the years, but never really went full-bore, but we're also doing heavier things than we've ever done."
He continued: "We're still a band that has always just written music for us. If we're not impressed by it, we're not putting crap out, you know? Even stuff in retrospect where we may take a listen to it later and go, 'Ah, I don't know if that was us.' But at the time, we're absolutely backing it, no matter what. So as long as we continue to write music for us first and the audience second, that's how you keep that excitement."
Taylor also talked about SLIPKNOT's new live show, which the band debuted on June 7 at Rockfest in Hyvinkää, Finland.
He said: "It's been really good. The set's been pounding. The show looks amazing. We're all playing really well. We're getting bigger pops from things like [last year's standalone single] 'All Out Life' than we do from stuff like 'Duality', which is nuts…
"Honestly, it's everything that we've wanted to do for years, and we just never had the budget and we had also had a lot of people around us telling us we couldn't do it… We want people all over the world to see the same show. If there's an A and B rig, they're identical. We don't wanna come in with some tired, half-assed bullsh*t.
"It's not who we are, and we've had to contend with that almost our entire career. So not only is it interactive — there's video, there's fire — but the whole set looks like an industrial complex. This is our attempt to create some IRON MAIDEN stuff, which is something we've been trying to do for a while."
Last Week, SLIPKNOT have unveiled details of their very own craft spirit, No. 9 Iowa Whiskey, which will be available this summer at select retailers in all 50 states and at the band's headline Knotfest Roadshow North America tour. A collaboration with the Iowa-based Cedar Ridge Distillery, No. 9 Iowa Whiskey (90 proof) and No. 9 Reserve Iowa Whiskey (99 proof) are made with corn from the award-winning distillery's family farm in Winthrop, Iowa.
SLIPKNOT will release their sixth studio album, We Are Not Your Kind, on August 9 via Roadrunner Records.
In March, SLIPKNOT announced the departure with the percussionist Chris Fehn after he filed a lawsuit against his band members over unpaid loyalties.
In his lawsuit, Fehn claims to have always been told that the money from merchandise and touring is funneled through one sole company that splits profits and pays the members of the band. However, Fehn claims he recently discovered that his bandmates have set up several other SLIPKNOT-affiliated business entities in different states that appear to be collecting money from the band.
SLIPKNOT have refused to reveal the identity of the new member, who is replacing Fehn, but some fans on Slipknot Reddit had speculated that Zach Hill is the new percussionist, and said they saw him at Jimmy Kimmel Live.