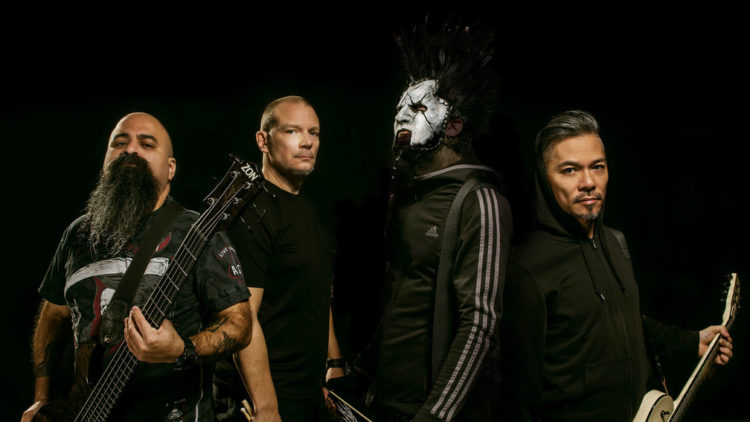 The new, masked singer of STATIC-X – who refers to himself as "Xer0" and is rumored to be DOPE frontman Edsel Dope – talked about joining the band for the upcoming 20th-anniversary tour of "Wisconsin Death Trip."
He said in an interview with Kerrang:
"Wayne was a very unique singer. I can't just be myself with this. That wouldn't be doing the material justice. Therefore, I really have to be prepared.

"I have to learn lots of parts… find the right places in my own voice to deliver my best version of these songs… I'm never gonna sound as good as Wayne did, doing Wayne's thing. That's just common sense.

"But I feel really good about it. I believe that I will represent the vibe of the band very well and that we will give the fans a really fun 'Wisconsin Death Trip' experience each night."
Focusing on his mask:
"I've spent the last 20 years building my own identity and touring the world with my own band. It didn't feel right for my image or identity to be placed in the center of something that I wasn't part of creating…

"It just felt like a perfect way to keep the focus on the four guys that made this great album and started this really cool band.

"After a few days of living with it, I decided to spike my hair up, just to see what it would look like with the mask on, and I was like, 'Oh, f*ck!'. Let's be honest: Wayne's hair kind of became the visual identity of Static-X."

"We didn't set out to create a 'character,' it just evolved naturally. We went to our friend Laney, who also makes the masks for many of the Slipknot guys, as well as Manson's band, and Rob Zombie's band, et cetera.
"Wayne liked heavy metal, monster movies, and monster trucks. He would be honored by the celebration and he would dig the sh*t out of this."



DOPE will be supporting on all legs of the tour — including in North America, Europe and Australia — with DEVILDRIVER co-headlining in North America, and WEDNESDAY 13 joining the trek in Australia, and SOIL and WEDNESDAY 13 appearing on all shows in Europe.