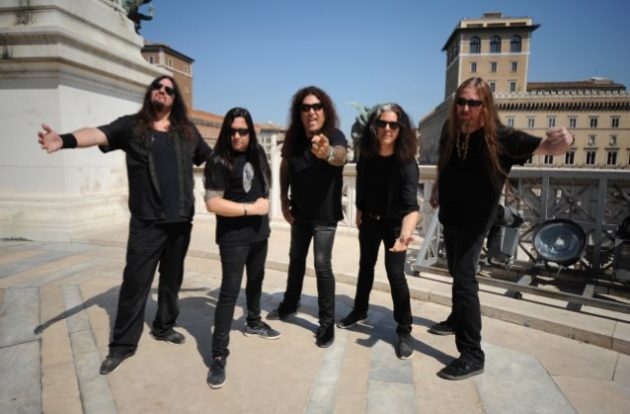 A poster advertising TESTAMENT's appearance at LE 106 in Rouen, France, with CROWBAR as special guests, apparently reads that a new album by the iconic Bay Area thrash metal album is due out soon.
It's not known if that means that TESTAMENT have been in the studio recording the follow-up to 2016's "Brotherhood Of The Snake", which is said to be released later this year. The three year break between that album and its follow-up will be the band's quickest gap between studio albums since a two year break between 1997's "Demonic" and 1999's "The Gathering". TESTAMENT fans had to wait nine years – not counting the collection of re-recorded early material "First Strike Still Deadly" (2001) – for the release of "The Formation Of Damnation" (2008), while the other two took only four years, 2012's "Dark Roots Of The Earth" and "Brotherhood Of The Snake".
TESTAMENT is scheduled to tour Europe this summer, and will join MEGADETH for the latter's first-ever MegaCruise, which will set sail on October 13th, 2019 from Los Angeles, California and hit ports of San Diego, California and Ensenada, Mexico before returning on October 18th. Also playing at MegaCruise are ANTHRAX, CORROSION OF CONFORMITY, ARMORED SAINT, METAL CHURCH, OVERKILL and many other acts.