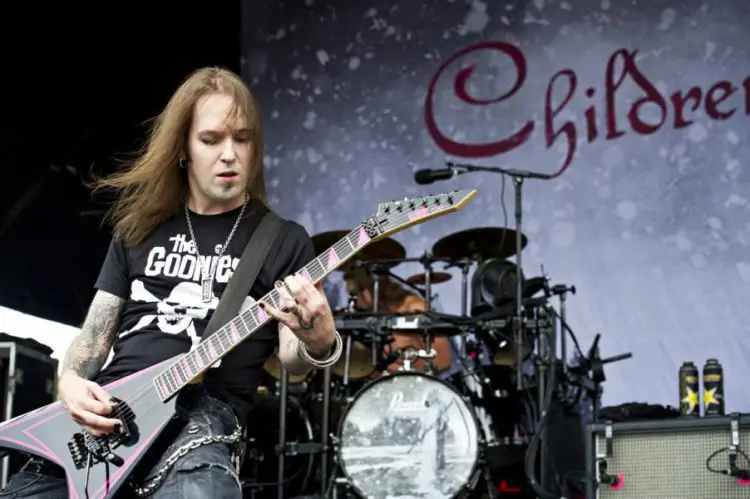 In an new interview with Metal Hammer, CHILDREN OF BODOM frontman Alexi Laiho talked about the band's upcoming tenth album. The follow-up to 2015's "I Worship Chaos" is once again being recorded at the band's own Danger Johnny Studios in Helsinki where the group's last two efforts were laid down. Helming the sessions for the new disc is producer Mikko Karmila, who worked on "I Worship Chaos"and 2013's "Halo Of Blood".
"We're actually doing really well", says Alexi.  "It's been super-fast so far, so now I am just hoping that everything is going to go smoothly from here onwards.
"We do what we always do; we're always very well prepared when we go in, so I guess this time around we practiced a sh*t-ton of times, a lot more than we did with the last record, and that's one of the reasons it's been going so smoothly," he added.
Regarding the musical direction of the new CHILDREN OF BODOM material, Laiho said: "It's actually a lot more straightforward as far as song structures go. 'I Worship Chaos' was also pretty straightforward, but it's got more of a rock 'n' roll vibe to it. It's still metal and dark and sh*t like that, but I'd say it's more rock 'n' roll."
According to Laiho, CHILDREN OF BODOM "had more time" to work on the songs and the arrangements this time around. "It's kind of crazy to think that the more time you have, you're more likely to start f*cking around with the song structure, but no, we started cutting bits, stripping it down a little bit and getting rid of all the extra sh*t," he said.