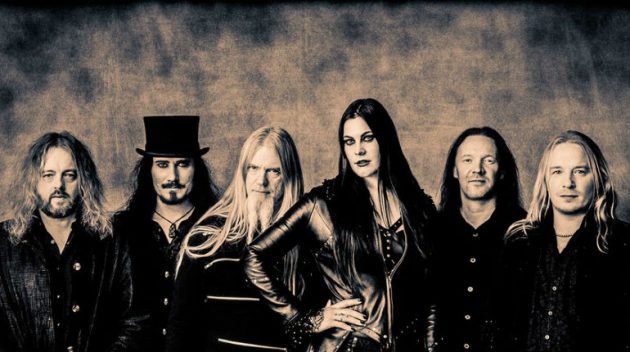 In March 2018, symphonic metal legends NIGHTWISH will begin their 9-month-long "DECADES: WORLD TOUR 2018" starting with 34 shows in North America.
The band will have a very special setlist for the tour, featuring rarely heard material from the earlier era, and excitingly for both band and fans, they will revisit the old songs with some new twists.
This setlist will be a 'one-off' and only performed on this "DECADES: WORLD TOUR 2018"
To accompany the tour, Nuclear Blast will release a 2CD compilation "Decades" on March 9th 2018.
NIGHTWISH "DECADES: NORTH AMERICA 2018" Tour Dates:
09.03. USA Atlanta, GA – Tabernable
10.03. USA Charlotte, NC – The Filmore
12.03. USA Norfolk, VA – The Norva
13.03. USA Baltimore, MD – Lyric Theater
14.03. USA New York, NY – Playstation Theater
16.03. USA Philadelphia, PA – Electric Factory
17.03. USA Worcester, MA – The Palladium
18.03. USA Albany, NY – The Egg
20.03. CDN Montreal, QC – Metropolis
21.03. CDN Toronto, ON – Massey Hall
23.03. USA Niagara Falls, NY – Rapids Theatre
24.03. USA Cleveland, OH – Agora Theater
25.03. USA Pittsburgh, PA – Stage AE
26.03. USA Covington, KY – Madison Theater
28.03. USA Kalamazoo, MI – State Theatre
29.03. USA St. Louis, MO – Touhill Performing Arts Center
30.03. USA Minneapolis, MN – The Myth
31.03. USA Chicago, IL – Aragon Ballroom
02.04. USA Omaha, NB – Sokol Auditorium
03.04. USA Denver, CO – Paramount Theatre
05.04. CDN Edmonton, AB – Northern Alberta Jubilee Aud
06.04. USA Spokane, WA – Knitting Factory
07.04. CDN Vancouver, BC – Queen Elizabeth Theater
08.04. USA Portland, OR – Roseland Theater
10.04. USA Las Vegas, NV – Brooklyn Bowl
12.04. USA Ventura, CA – The Majestic Ventura Theatre
13.04. USA San Jose, CA – City National Civic
14.04. USA Anaheim, CA – City National Grove
15.04. USA Tempe, AZ – Marquee Theatre
17.04. USA Dallas, TX – The Bomb Factory
18.04. USA Memphis, TN – Minglewood Hall
19.04. USA Mobile, AL – Saenger Theater
21.04. USA St. Petersburg, FL – Jannus Landing
22.04. USA Miami, FL – Olympia Theater
In December last year, NIGHTWISH released their double-DVD "Vehicle Of Spirit" with their shows at London's Wembley Arena and in Tampere. If you don't have it yet, you can order it now here.