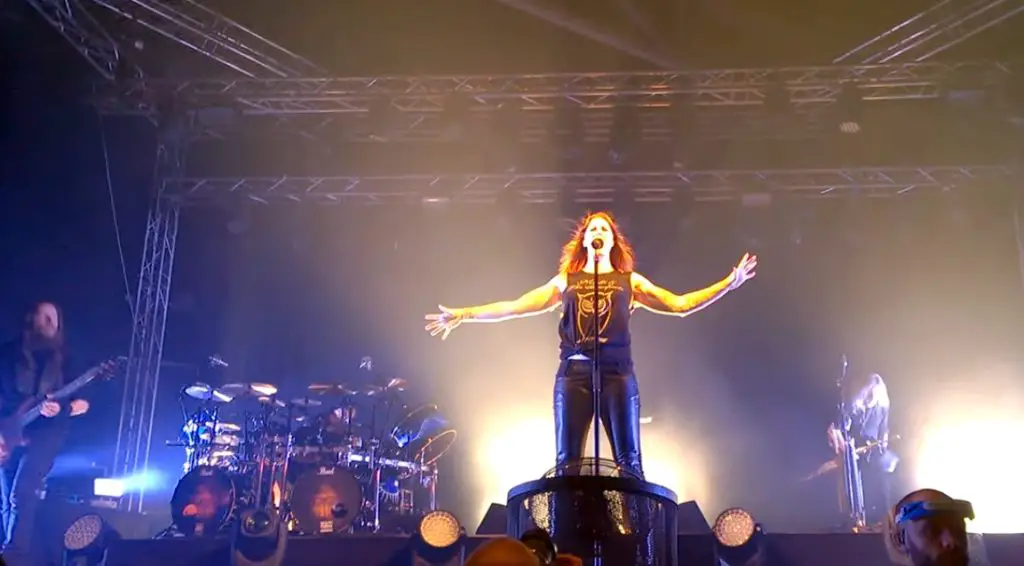 NIGHTWISH played a special "secret" concert last night (Wednesday, July 28) in Oulu, Finland. The performed at Club Teatria disguised as a NIGHTWISH cover band called NEVSKI & THE PROSPECTS, although speculation about the group's actual identity was strong enough to cause the event to sell out.
NIGHTWISH played the Oulu show as a warm-up for its festival appearances in Finland this week: July 30 at Qstock and July 31 at Kuopiorock.
This marked band's first fan-attended show in more than two a half years. It was also NIGHTWISH's first proper concert with session bassist Jukka Koskinen's (WINTERSUN), who stepped into the group as the replacement for longtime NIGHTWISH bassist/vocalist Marko Hietala. Hietala, who left band in January explaining in a statement that he hadn't "been able to feel validated by this life for a quite a few years now."
In a recent interview with Finland's Kaaos TV, Koskinen talked about how he joined NIGHTWISH as a session bassist for the upcoming tour for Human. :II: Nature. album.
"It was a few months back. I received a phone call from the NIGHTWISH camp and was being asked if I would be interested [in] the bass player position regarding what has happened, that Marko has left the band," Jukka said. "And, of course, obviously, when I got that phone call, I thought it was, like, 'Woah.' As an outsider, obviously, I couldn't think that, especially in NIGHTWISH, I couldn't think of it even that this sort of thing could happen. But, of course, life is life. And, yeah, absolutely, I immediately, of course, said that yes, definitely I would be interested.
"I always listened to NIGHTWISH; I always liked their music a lot. [It's] very soulful music," he continued. "That was a few months ago. And then we made a few arrangements. Two months ago, approximately, I was in Finland practicing. I had a meet-and-greet. We had a meet-and-greet before as well, but another one where we practiced together for the first time to see how, playing-wise, the chemistry was going, and get to know each other more. Kind of [like] an audition — obviously, of course.
"Any band who would find new guys to come in or so, you would need to have these things. I would do the same if I would be on the other side of the table, if you know what I mean. So, yeah, everything went good. After the audition thing, everything went very smoothly, and the guys said, 'You're in.' And what did I say more than with the happiest smile, I said back [to them], 'I'm in.' But we're talking, of course, as a session musician spot now for the upcoming 'Human. :II: Nature.' tour."