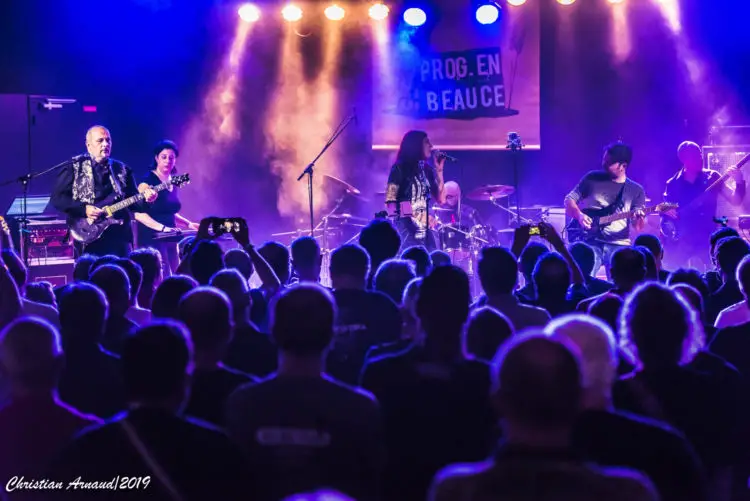 Nine Skies are a French progressive rock band inspired by many influences: rock, pop, progressive, jazz…
The conceptual debut album "Return Home" was released on 2017, following by a special edition on 2018. The second conceptual album "Sweetheart Grips" was released on 2019. The band played live at the Prog en Beauce festival 2019 and this concert was released on the 4th of June 2021.
The third studio album, "5.20," was released on 4th of June 2021. From this album two singles were already released: "Wilderness" featuring Steve Hackett on guitar and "Porcelain Hill" featuring Damian Wilson on vocals. Achraf El Asraoui (vocals, guitar) joins the line-up of the band to record this new album.
"5.20" is an acoustic opus including a string quatuor. The album features also the flute of the amazing John Hackett on the track "The Old Man In The Snow."
The personal poetry of this album conjures up a dream beyond various horizons.
This acoustic and very intimate opus takes us on a journey using the spellbinding charm of the string quartet, from the captivating melodies to mysterious and more introspective overtones of the album.
Each moment suggests a reflection on both a universally human context and the emotional part specific to all of us: a renewed musical experience that gets more enriched with every listening of the album.
Nine Skies continue to have various internationally positive reviews of album releases which can be viewed on the official website and social media and is broadcasting on a lot of radio shows all over the world.

Band Line Up:
Eric Bouillette – guitars, violin, mandolin, keyboards
Alexandre Lamia – guitars, keyboards, piano
Anne-Claire Rallo – keyboards, piano
Aliénor Favier – vocals
Achraf El Asraoui – vocals, guitars
David Darnaud – guitars
Bernard Hery – bass, fretless bass
Fabien Galia –  drums, percussion
Laurent Benhamou – saxophones
Cath Lubatti – violins, viola
Lilian Jaumotte – cello
Steve Hackett – guitar solo (Wilderness)
John Hackett – flute solo (The Old Man In The Snow)
Damian Wilson – vocals (Porcelain Hill)
Read our review here.