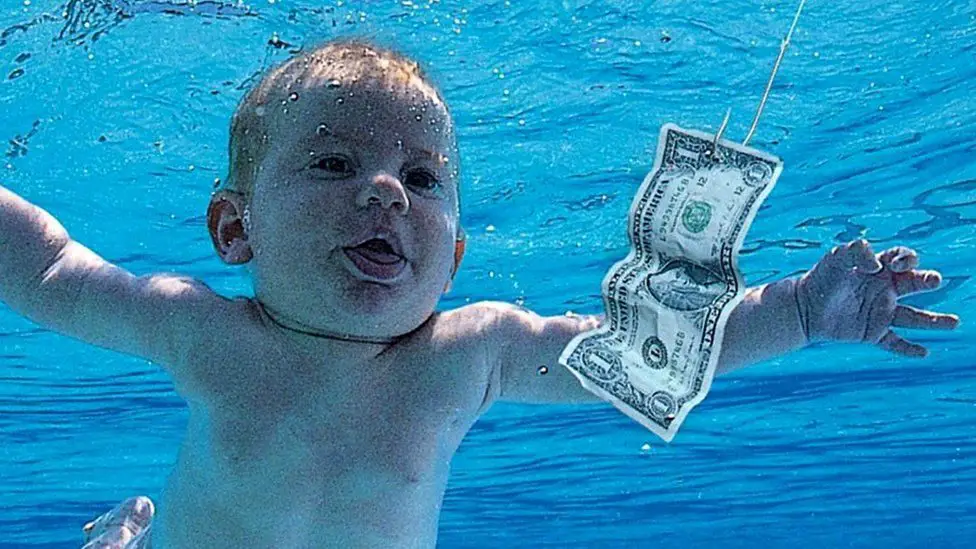 NIRVANA camp has filed a motion to have the lawsuit they are facing from Nevermind cover star Spencer Elden dismissed.
Elden alleges the image of the baby reaching for a dollar in a swimming pool violated federal child p*rnography statutes and argues child sexual exploitation.
He claims that his parents never signed a release authorizing the use of the photos, which were taken in a Pasadena aquatic center in 1990. He alleges that the band promised to cover his genitals with a sticker, which was never incorporated into the album art.
Elden is seeking damages of either $150,000 from each of the 17 defendants or unspecified damages to be determined at trial, attorney fees, an injunction to prohibit all parties "from continuing to engage in the unlawful acts and practices described herein," and a trial by jury.
In their motion to dismiss, NIRVANA camp stated of Elden: "The baby in the photograph is now a thirty-year-old man, the plaintiff, Spencer Elden. Elden has spent three decades profiting from his celebrity as the self-anointed "Nirvana Baby." He has re-enacted the photograph in exchange for a fee, many times; he has the album title "Nevermind" tattooed across his chest; he has appeared on a talk show wearing a self-parodying, nude-colored onesie; he has autographed copies of the album cover for sale on eBay; and he has used the connection to try to pick up women."
You can find a copy of the full motion to have the suit dismissed here. It is expected to go before the courts on January 20th, 2022.