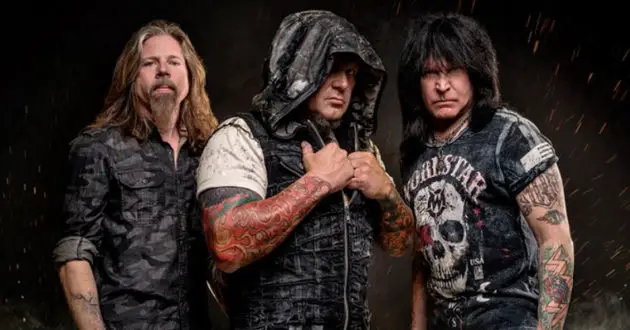 Guitar virtuoso Michael Angelo Batio has confirmed that the NITRO reunion has come to an end.
Back in November 2016, Batio and glass-shattering vocalist Jim Gillette announced that they had resurrected NITRO with LAMB OF GOD drummer Chris Adler. It was later revealed that they were working on album with producer Kane Churko, who has previously collaborated with DISTURBED, FIVE FINGER DEATH PUNCH, IN THIS MOMENT, HELLYEAH and PAPA ROACH. In addition to producing the disc, Churko was said to be contributing his songwriting talents to the project.
In a brand new interview with "The Ultimate Guitars Shred Talks", Batio was asked about the status of NITRO's new LP. He responded (see video below): "It's gone. I'm best friends with Jim Gillette — we're like brothers. We never had an argument, even back in the old days. NITRO didn't break up [in the early 1990s] 'cause we got mad at each other. It was the grunge era. Young 'hair metal' bands, all of us, from L.A. were considered old-fashioned, and it was just timing. And then Jim went on to do fantastic in real estate, and I went on to continue my career. But we just can't go back. I love NITRO, I love that time, and I'm proud of it, but after we did a few songs [with Adler], we did a tour together, we all realized… But I'm gonna be doing a solo record based on some of those songs. It's coming out on Rat Pak Records later this year. It's slated in the fall release schedule. And I've got a couple of songs with Chris on there and [bassist] Victor Wooten."
Two years ago, Gillette told Metal Rules that the new NITRO material was shaping up to be "very, very heavy. I don't think you can get any heavier." He added: "This time we didn't have any men in suits telling us what to do. We are doing what we always envisioned what NITRO should be."
Batio told the "Talking Metal" podcast at the time that the new NITRO songs would feature a different vocal and musical approach to what the band was previously known for.
"Jim has a great death metal voice that he didn't have back then and he's going to be singing," the guitarist said. "There is going to be singing and there's going to be super-heavy death sounds.
"To categorize what we are doing — think part LAMB OF GOD and a very small part that nods to the past [of NITRO], only because Jim is singing first and the music is super, super aggressive. I am using all seven strings on the guitar. It's mean. It's really mean."
NITRO's debut album, 1989's "O.F.R.", featured Batio and Gillette alongside bassist T.J. Racer and drummer Bobby Rock. Following several lineup changes, they issued their second record, "Nitro II: H.W.D.W.S.", in 1991, but split two years later.