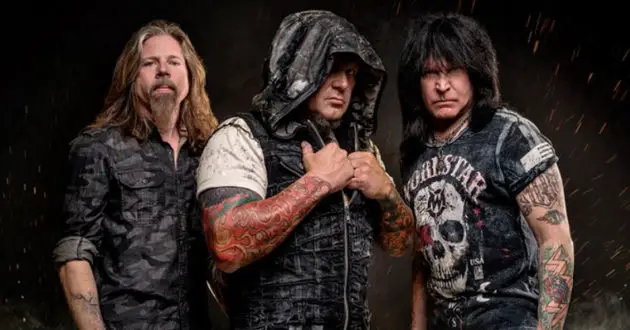 NITRO has released a short film as part of their Indiegogo crowd funding campaign.
The video can adequately be described as "purposely satirical" and a "Spinal Tapish" way of weaving NITRO's (glamorous) history into what's going on currently with the band. Tim MacMillar and Luke Hoskin from Protest The Hero make guest appearances in the film and hilarity ensues.
The video was directed by award-winning filmmaker, Marc Ricciardeli, who has this to say about it: "After rehearsing the first scene I considered running but knew Gillette would ultimately track me down and beat me up. However, once the camera rolled the guys came alive. Batio delivered his lines not unlike a middle-aged Steve Segal hopped up on sugar and Gillette played it cool in a one-of-a-kind 'Tom Cruise meets Pac Man' performance. Adler sunk his teeth into his scenes and truly disappeared into character. Did I mention that his character was himself? What an ego! After blinking himself with toxic eyeliner, Hoskin was able to tap into Batio's younger self and nail at least seven notes out of 9,000. MacMillar complained a lot about lifting a 5-pound weight in a scene but eventually rose to Gillette's vocal heights. I was very pleased with the debut breakout performance by Protest The Hero's manager, Rich Fernandes, as the greasy label rep. Lookout DeNiro! All in all, I would do another video with NITRO for three times the money."
Michael Angelo Batio stated: "If you can't poke fun at yourself, then you have no reason to be in the public eye. I had a blast working with the guys from Protest The Hero. They are not only a great band but are also absolutely hilarious!"
Jim Gillette said: "We wanted to show people that we can take the piss out of ourselves without pissing all over our past. After seeing the finished video for the first time I can tell you that Adler is arguable the world's most interesting man. Yes, we have a sense of humor. But, make no mistake, we take our music seriously."
Chris Adler chimes in and adds: "I'm not really sure what any of this is about. People keep asking me about NITRO and I have no idea what they are talking about. If I made a video other than the one of Pam and me on the boat, it's news to me. And, I'm going to put the full resources of N.A.D.A. behind having the responsible parties full contact info blocked on my iPhone."
"It was an honor being a part of this video. Growing up listening to NITRO, I was impressed how they pushed the limits of their craft. Being invited to help recreate their glory days was a real treat. I'm looking forward to what lies ahead for this project.", says MacMillar.
https://www.youtube.com/watch?v=DytjHqIQw1Y