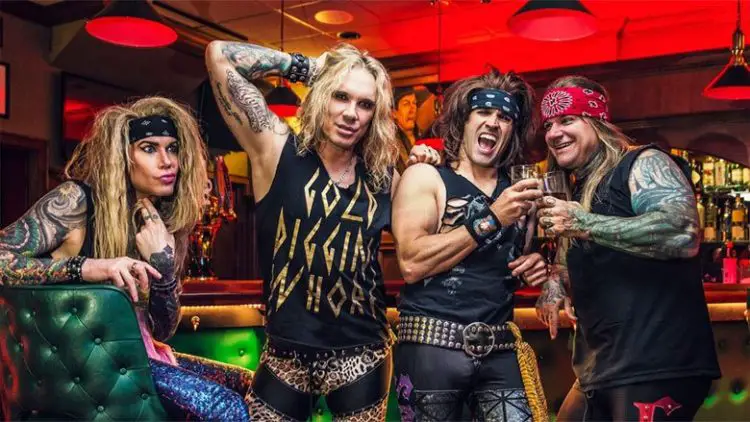 NME magazine has slammed STEEL PANTHER's latest album, Heavy Metal Rules, in their recent review, giving the album 1/5 star rating.
"For a parody metal group, that's less than ideal," review starts. "The American band have been telling the same joke for 10 years – since their 2009 debut Feel The Steel — and, if you're sitting comfortably, it goes a little like this."
They're four dudes who look and sound like an LA hair metal band from the '80s, right, but (and here comes the punchline) they're doing it today," review continues. 
"The gag involves dumb guitar riffs and even dumber lyrics about sex, babes and metal. Gleeful misogyny is built into the routine and their earlier work also boasted flourishes of racism and homophobia. Ladies and gentlemen: this is incel rock."
Focusing on the album itself, review reads: "There's thankfully none of the debut album's sexism or homophobia here. So they clearly sense the joke's worn extremely thin, that the parameters have shifted and you can't get away with a song called 'She's On The Rag', as they somehow did with 2014's All You Can Eat. Which kind of begs the question: why bother doing it at all?"
"If you have never had sex, you might like this album," reviewer adds. If you enjoyed STEEL PANTHER's single joke 10 years ago and thought, 'I believe that I would enjoy hearing a slightly more apologetic version of this joke a decade down the line,' you might like this album. It's only got one star because the NME content management system doesn't currently support 0 stars."
You can read full review on NME here.
STEEL PANTHER's Heavy Metal Rules was released on September 27.
Band commented on the album: "Heavy Metal Rules is the ultimate party album. Anthem after anthem and hook after hook, the songs will provide the soundtrack to your new bitchin' heavy metal life," the band puckers. "The first single, 'All I Wanna Do Is F*ck (Myself Tonight),' is the ultimate song about self-love and having a positive personal self-image. It is the kind of song you put on to get yourself in the mood whether you're getting ready to have sex with yourself or 17 girls in a row."