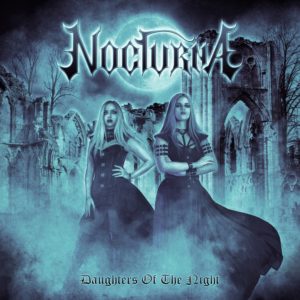 Some bands are making a great use of the social media. To me it's no big deal, I mean, some fans and other purists may have some biases about Metal bands using the social media to promote themselves. I don't. In a nutshell, technology made life harder to bands because now it's impossible to make a living just selling cds or, even, with gigs. So, they were obliged to find another way to keep going. Ok, I agree that being underground is cool and things but it doesn't pay the bills. To be sold out and to be bought are two different things. Metallica are sold outs and Slayer were bought. See the difference? The first deserves all my despise and scorn; the second our biggest and warmest hails.
Nocturna are a band that I ran into via my social media. In fact, I ran into many bands via my social media and most of them are Symphonic Power Metal. Is that a coincidence? No, because I don't believe in coincidences. I just guess Symphonic Power Metal bands and fans are more open to them and to the use of the new technologies to promote bands. That and because Symphonic Power Metal bands are the new trend. No offense. It's just what it is. Symphonic Power Metal bands are the trend now. No problem with that indeed. It's just the way things are. Few years ago Death Metal and Extreme Metal bands were the trend as Hard Rock and NWOBHM were in the 1980. Life isn't that simple, plain, and black and white. There are slight nuances inbetween. Now it's the time for Symphonic Power Metal bands with female vocalists.
Ok, then, that all said so what Nocturna with "Daughters of the Night" have to offer us mere mortal fans? The band has two female vocalists Grace Darkling and Rehn Stillnight. The band's instrumentals are neat and well-performed. Songs were well-produced, well-written and there are no visible flaws – hmm, visible? In fact, Nocturna follow all the ingredients, or formula, of their other peers. So, what? Many may say that it's more of the same, some may say it's redundant. Remember that many said the same about Helloween and Iron Maiden. I don't agree. In each own way each band is unique. So are Nocturna. Of course, "Daughters of the Night" is an album for the fans of the style. Extreme Metal fans I guess won't like it. And that's okay. No one is here to please everybody. However, if you like a consistent and honest band that plays its music with passion and love now we're talking. Nocturna are all of this. With the plus of the two female vocalists.
Nocturna "Daughters of the Night" was released on January 21st via Scarlet Records.
Track Listing:
Spectral Ruins
New Evil
Daughters of the Night
The Sorrow Path
Sea of Fire
Blood of Heaven
In This Tragedy
Darkest Days
Nocturnal Whispers
The Trickster
Watch "Daughters of the Night" official video here: