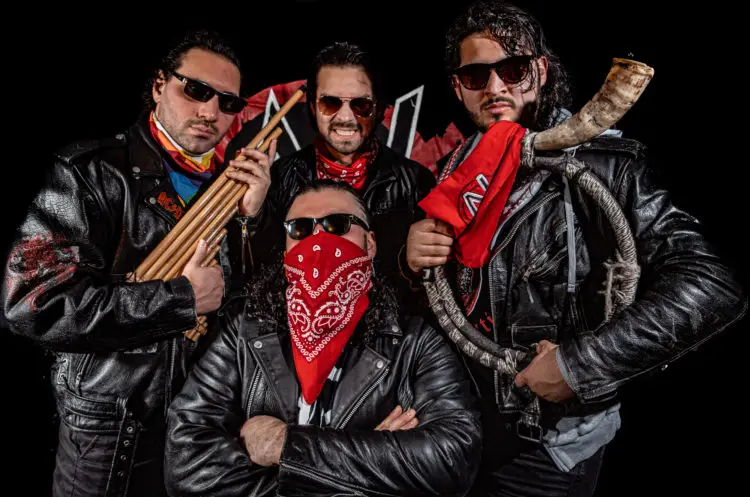 NON RESIDENTS' "Against Police Brutality" is a powerhouse of fast rhythms, thought-provoking lyrics and headbanging appeal. The album follows the release of singles "We Are Non Residents," "Comfortably Tied" and "This is America."
"We're thrilled to unleash "Against Police Brutality." We believe that it is an album that the metal scene needs these days, down to earth, with a direct and forceful message, no fantasies or poetry. An album that makes you bang your head until you can't, and sing at the same time, an album that will make you feel part of our community, an album that will make you feel like a real Non Resident."
In 2019, the Fenoutt brothers disbanded their previous project to begin NON RESIDENTS with Emilio Rayo and Benjamin Schnake in New York City. Their sound fuses a variety of influences from thrash to Andean rock, and Mapuche rhythms. The brothers moved from Chile to the US in 2015 and, drawing on their own experiences, wanted to voice the inequalities immigrants to the US experience. Ferocious vocals accompany the unapologetic distorted instrumentation and hard-hitting percussion. "Intro" dives straight into the mosh pit with an intense energy and wall of sound. NON RESIDENTS deliver far more than just speed and power with experimentation of rhythms with progressive, non-standard elements in "Resilience." The quartet artfully encompass their identity into the album from the panpipe interlude "Preludio" and the trutruca included in "Brutal Cueca."
"Against Police Brutality" is an epic record carrying NON RESIDENTS' raw experiences. Its unforgiving sound doesn't just focus on the heavy but sees the instrumentation and vocals expertly cultivated and performed. NON RESIDENTS have produced a dynamic and compelling debut album.
NON RESIDENTS' "Against Police Brutality" release show will take place on October 10th at the Knitting Factory, Brooklyn, NY
Band Members:
Amaru Fenoutt -vocals
Roberto Fenoutt-drums
Emilio Rayo-bass
Benjamin Schnake-guitar
Links:
Merch: https://merch.nonresidentsband.com
Website: https://www.nonresidentsband.com
Instagram: https://www.instagram.com/nonresidents/
Facebook: https://www.facebook.com/nonresidentsband
Tiktok: https://www.tiktok.com/@nonresidents
Read our review here.