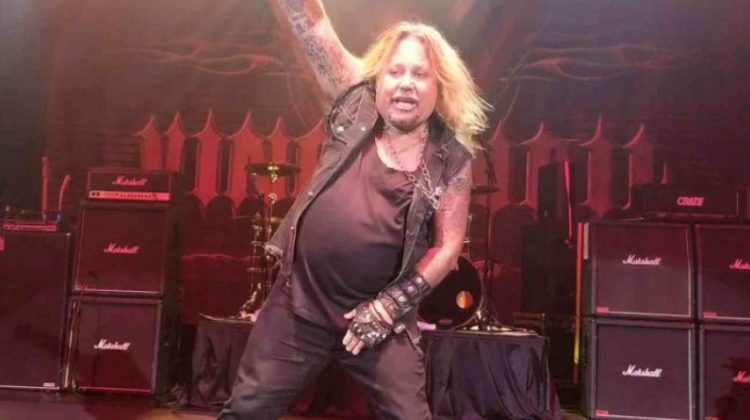 NONPOINT drummer Robb Rivera has shared his opinion on Vince Neil's disastrous comeback performance at an Iowa festival last month.
As previously reported ,on May 29, the MÖTLEY CRÜE frontman struggled to complete his solo concert at the Boone Iowa River Valley Festival in Boone. Based on fan-filmed video footage of the gig posted on YouTube, Neil, who hadn't performed in more than a year and a half due to the COVID-19 pandemic, began losing his voice several songs into his set, which consisted exclusively of CRÜE classics and cover songs previously recorded by the band.
While performing "Girls Girls Girls," Vince finally gave up addressing to the crowd: "Hey guys… I'm sorry, you guys. It's been a long time playin'. My f*ckin' voice is gone… uhh… we love you and we uhh… hope to see you next time, man. Thank you."
In a brand new interview with Sofa King Cool, Rivera said: "I feel bad for Vince. MÖTLEY CRÜE is such a great band. He's got a year to get it together for [the 2022 start of CRÜE's 'The Stadium Tour' with DEF LEPPARD and POISON]. And it's sad, but I still love MÖTLEY CRÜE regardless. I know he's had some struggles, and getting older, stuff like that, it happens.
"Not everyone can be a Rob Halford, or like Ronnie James Dio before he passed — he was still singing at a high level. You have to take care of yourself. I don't know Vince personally, but I hope he takes the right steps. 'Cause I know that DEF LEPPARD and MÖTLEY CRÜE together is gonna be an amazing tour. Anybody who lived that era, it's gonna be like high school all over again."
New dates and tickets for "The Stadium Tour," featuring MÖTLEY CRÜE, DEF LEPPARD, POISON and JOAN JETT & THE BLACKHEARTS can be found at this location.