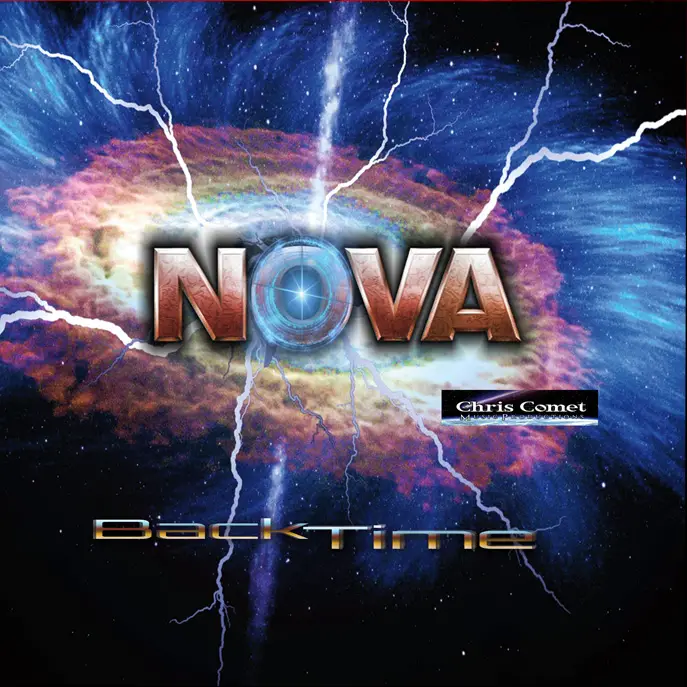 Maybe the burning question my fans make everyday is how I cope with this so dramatic change of Metal styles. My last review was on a 1980s Death/Thrash Metal exactly two opposed styles of Metal music. It's a fact that both fans usually hate each other and they can't mention the names of the bands of each style. Well, I don't. I serve both masters. With pleasure.
To tell you the truth, on Nova's behalf, the more I listen to "Back in Time" the more influences and features of Prog Rock I notice. Of course, they are subtle features, but features at all in the haze of sugared Metal music. Not haze at all I mean, but my fan gets me. Take "The Long Home," for instance. Vocals after the keyboard solo and the tone of the keyboard sound pretty Prog Rock. By the way, the keyboards in tittle track "Back in Time" sound a lot as Deep Purple's "Perfect Strangers" era.
From where I'm standing, "Back in Time" is an album the edge for me. I mean, it's almost too much Nelson even for me. I'll elaborate. Nelson are a band from 1980s Hard Rock that I can't stand for too much sugared. And just when I wrote this the Nelsonish "Lights of My Life" gets in the area. However, the keyboard solo saves the day. Who's never…
Fun fact about "Back in Time" is that I haven't noticed any guitar solo. It's such a rare thing for a Hard Rock band even when sugar coated as Nova are. And again when I wrote this comes "Stronger Together" to prove me wrong. On my own behalf I wrote I haven't noticed not there aren't any guitar solos.
I really liked the general mood around the album. In fact, I do appreciate this change of heart. As far as I'm concerned, it's a healthy thing to vary that much. Not to mention that the album delivers what it promised that is to go back in time. I recommend you my fan to do the same. Magic things can happen. Maybe, just maybe…
Nova "Back in Time" was released on August 31st via Chris Comet Music Productions.
Track Listing:
Hold On
Pass This Way
In Your Eyes
Supernova
For Ever & Ever
The Long Way Home
Back in Time
Light of My Life
Stronger Together
Zykon
Watch "Back in Time" official video here: