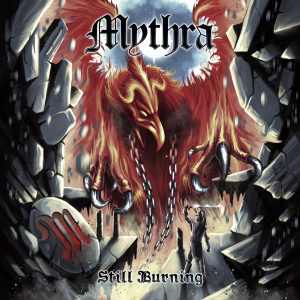 The world of Heavy Metal was shocked with the reveal that on April 28, 2017, British Heavy Metal veterans MYTHRA will release a brand new studio album entitled "Still Burning". The album will be available as a vinyl LP, CD and digital download, and will be released via High Roller Records. "It's the first time the band has gone into the studio and recorded a complete album all in one go. We flew out to Poland in October 2016 to work with Bart Gabriel as producer. It was a superb experience and we all had a great time working with him.  We were totally blown away when High Roller Records signed us to record the album and cannot thank them enough. Their support has been incredible!" says MYTHRA vocalist, Vince High. "We intended to stay true to our NWoBHM roots and achieved our goal. The eleven tracks have tons of power and energy, twin lead guitar breaks, driving bass, thunderous drums and big choruses. Everything fans would expect from a MYTHRA album", he adds. The album's cover artwork was painted by Roberto Toderico, Italian artist known for his previous collaboration with MYTHRA, as well as with other notable NWoBHM acts such as TYGERS OF PAN TANG and QUARTZ.
 Last year MYTHRA released the "Warriors Of Time: The Anthology" album, which featured a collection of classic tracks recorded between 1979 and 1982 along with five songs written and recorded in 2015 following the band's reunion performances at Brofest UK and the Keep It True festival in Germany, both of which attracted fans from across Europe, the USA and South America.
MYTHRA's reunion was a major event for many NWoBHM fans around the globe. Their legendary first recording from 1979, entitled "The Death And Destiny EP", has cult status and stands alongside IRON MAIDEN's "The Soundhouse Tapes" released in the same year. The band have a great legacy, which has inspired and continues to inspire Metal bands across the world.  It is no big secret that members of METALLICA have cited MYTHRA as one of the influences on their early recordings. The new album "Still Burning" is the latest episode in the band's onward musical journey. It shows that MYTHRA's flame continues to burn brightly into 2017.