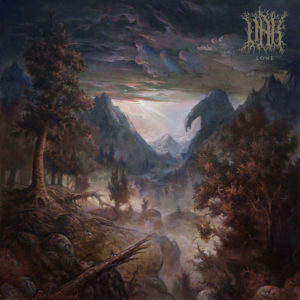 It's very hard to understand Oak's music for the ones who aren't fans of Funeral Doom Metal due to its cutting edge, and because of that, dark, gloomy, despaired, agonizing, and mesmerizing way of being. "Lone" gathers the state of the art features that doom metallers are using to express all their anger, fear, grief, and despair. I guess it wouldn't be wrong to label "Lone" as the despair itself. Oak were pretty well suceeded in  creating a musical scenario that could pass all the emotions that all Doom Metal bands eagerly desire to pass to the fan.
There are four tracks in and only "Abomination" has a vocal as we all know. Other tracks have something like grows and moanings and other sonic effects that keep the fan dazzled. The cutting edge feature I talked about. Many bands are going through this path to stay away from the common and standard. Bands have to try harder and harder to stand out from the crowd these days. A simple fact of Metal life.
Musicwise, Oak like the simple things. "Lone" is simple with an infinite mesmerizing repeatition of themes during the almost twenty minutes of tracks "Sculptures" and "Mirror" whose titles" are also very simples and efective. The aforementioned "Abomination" and "Maze" are shorter within the five minutes average with vocals. Oak's intent is to create an atmosphere of musical chaos representing all the suffering that our planet is full of. It's mesmerizing and hypnotic for the same reason. Life down here is mesmerizing and alienating at large. Oak pass this feeling pretty well to the fan via their inspired and cutting edge songs. Yeah, Doom changes slow, but it does change. But don't go messing with success, Oak maintain all the great and effective stuff Doom has. The change is also shoegazed and slow as their music.
By the way, what a great cover!
Oak "Lone" will be released on December 20th via Transcending Obscurity Records.
Track Listing:
Sculptures
Mirror
Abomination
Maze
Watch "Abomination" official music video here: