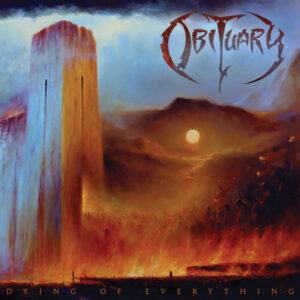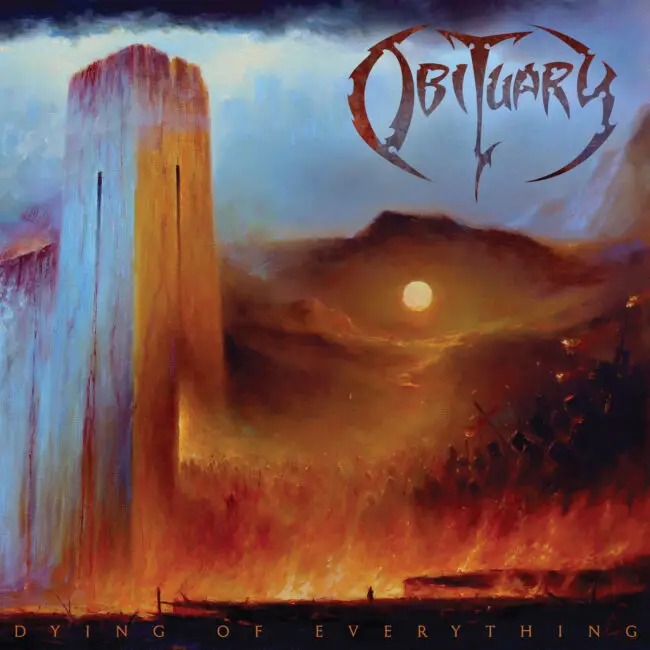 I'll admit I find it much easier to review an album from a stapler band as Obituary. Even more when the album in question here "Dying of Everything" has a six year hiatus. My impression is that there is so much more to say. I just do. Fun fact to notice that this long hiatus was intentional as drummer Donald Tardy said, "We're always thinking about new songs and writing riffs and this and that. But at this time of our lives and this time of the music industry… This new album has only been out for just over a year now, so we're in no hurry to try and push another album out of us as quick as we can; there's no sense."
Ok, than. Here we've got "Dying of Everything." First of all, I have to say that I'm no expert in Obituary. True. Me and the band have absolutely no history even though we're contemporaries. But, as I said before, I wasn't in the mood for Death Metal in the 1980s. But, there is always a but coming, time goes by and we change. To get this job was the definite move to change my mind about Extreme Metal. The avalanche of great Extreme Metal bands to review and to cherish helped a lot as well. Also, needless to say a word about the relevance of the band.
Right, now with "Dying of Everything." Here Obituary explore their verve of more moody and slower songs as "My Will to Live" and "The Wrong Time" both showing the heavier facete of the band. The guitars and the drumming give the slow pace with killer riffings and pure slaying drummings. Vocals give the tone. Obituary obviously are the kind of band that even a person that isn't a diehard fan as I am can recognize it by the initial chords. Interestingly, one of the great traits of Obituary is their skill of being recognized by the use of slower tunes where the band can show all its ferocity and anger. That's what always made Obituary a different band. "Dying of Everything" has lots of this. Some tracks as the grand finale "Be Warned" could easily be confused with a Funeral Doom song. Its slower than hell cadence and vocals from the deepest depths of hell kind of sound dissonant from the rest of the album. Is it some kind of warning?
Maybe "Dying of Everything" isn't the best Obituary album but for sure it's an album that will make even the more diehard fan happy to see the band again keeping the flame higher and higher.
Obituary "Dying of Everything" was released on January 23rd via Relapse Records.
Track Listing:
Barely Alive
The Wrong Time
Without a Conscience
War
Dying of Everything
My Will to Live
By the Dawn
Weaponize the Hate
Torn Apart
Be Warned
Watch "The Wrong Time" official music video here: