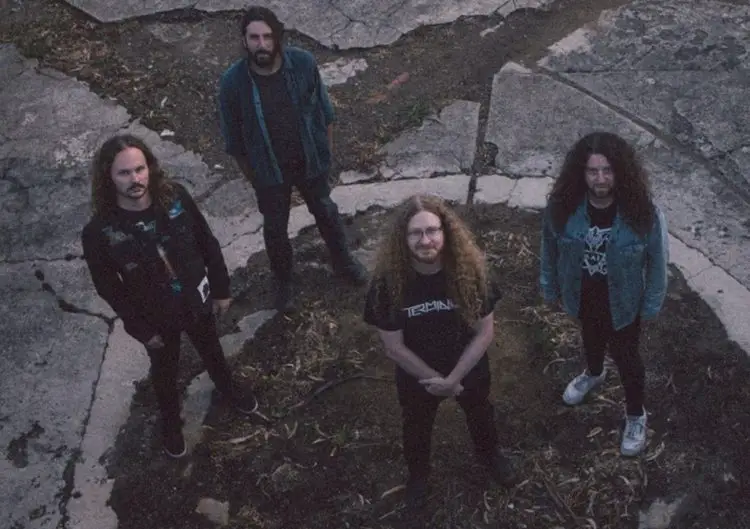 Australian Occult Doom Metallers THE WIZAR'D are streaming a new song from forthcoming album Subterranean Exile. Listen to "Long Live The Dead" below.
Subterranean Exile will be released April 24 on Cruz Del Sur Music. CD and vinyl pre-orders are available at this location.
Australia's THE WIZAR'D have long been one of doom's best-kept secrets. On Subterranean Exile, the band casts a diabolic spell of arcane metal magick sure to please fans of classic doom metal.
For the creation of their fourth studio album, Subterranean Exile, The Wizar'd employed an audio alchemical process called "Arcane Metal Magick." It's where sinister energy is converted by transmutation to a frequency form that can be held in a lower plane. For Subterranean Exile, The Wizar'd captured approximately 35 minutes and 25 seconds of music — a number that holds significance to not only the members of the band but also for those who understand its power. For the greater audience metal as a whole, it is the gateway to doom metal that is equally mystical as it is vintage, recalling the likes of BLACK SABBATH, WITCHFINDER GENERAL, PAGAN ALTAR, SAINT VITUS and TROUBLE.
Originally formed in 2004 by guitarist/vocalist 'Ol Rusty, THE WIZAR'D released a series of demos, singles and EPs before their first studio album, 2008's Infernal Wizardry. Pathways into Darkness would follow two years later, while Ancient Tome of Arcane Knowledge would see the light of day in 2013. The original plan was to release the songs 'Subterranean Exile' and 'Master of the Night' as part of an EP shortly after the release of Ancient Tome, but, 'Ol Rusty was greeted by a spectral voice who instructed him to go in a different direction. He then spent the next eight years writing the rest of the album under the realization that true doom metal moves at a glacial pace.
The tracking for Subterranean Exile started in January 2018 at The Green Room in Hobart, while the rest of the album was recorded at Heavy Chains HQ and completed in May 2019. This time, THE WIZAR'D  (who are completed by second guitarist Master of the Night, bassist Blackie and drummer Maniac Frodsham) sharpened their knives and strengthened their spells — the album is perhaps the most direct and refined in the band's history, casting a diabolical web of spiraling guitar harmonies, thunderous drums, lurching riffs and the vocal sorcery of 'Ol Rusty.
Accordingly, the compositions found on Subterranean Exile not only resonate on the same current as the doom gods of yore but reach for arcane horrors only found in spectral dimensions. It is now up to you, brave listener, to decide whether you are up for the task of partaking in this arcane metal masterwork. The choice is yours.
Subterranean Exile track listing:
Subterranean Exile
Wizard's Revenge
Master of the Night
Ecstatic Visions Held Within The Monastic Tower
Long Live the Dead
Evil In My Heart
Dark Forces