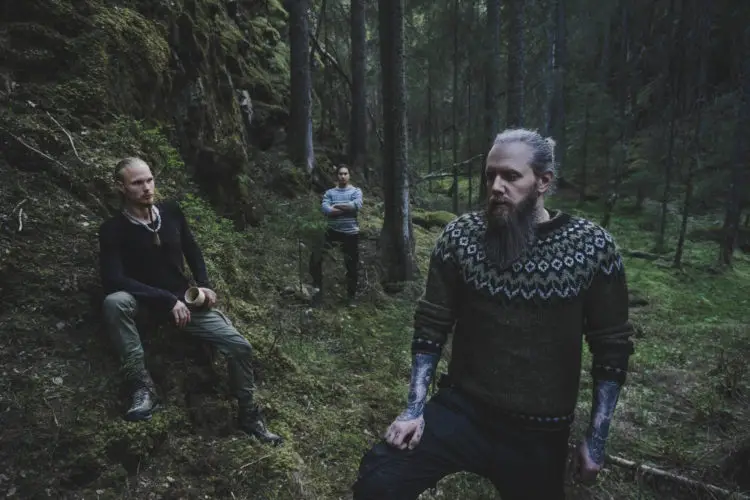 AOP Records proudly presents the third full-length of Sweden's OFDRYKKJA with their take on Atmospheric Black Metal and Melancholic Folk.
OFDRYKKJA were born out of chaos. Eight years ago, three darkness consumed men seeked to ventilate their seemingly endless pain. Decades of addiction and mental illness sculptured their first album "A Life Worth Losing." Everyone desperate to escape the agony of their destructive lifestyles in one way or another, the title of the album felt obvious. Writing the music and the lyrics had become a therapy as the band member's lives evolved into something new.
Drabbad was gunned down by police and spent a three year prison sentence. The base to most songs of the upcoming second album was written from within the prison walls. Having hit rock bottom, the band was all ready to find a way out of that dark wilderness in which they were all lost. The second album received a suitable title – "Irrfärd" (which translates to 'Aimless journey'). Right after recording it, Vocalist Pessimisten left Sweden to venture out on his own personal journey which have taken him throughout the world for the past three years.
With nothing to lose, they all jumped off the sinking ship and found their ways back to shore. Drabbad has stayed sober and clean since the night leading to his prison sentence. Pessimisten managed to break free from his alcohol addiction and regained control over his mind. Associate found his path in the homestead direction.
Three years after recording the second album, the journey doesn't seem as aimless anymore. The long and hard polar night has come to an end. The first glimpse of the long awaited sun as it's fighting its way up above the horizon. Dawn is here. For OFDRYKKJA's new album, they wanted to stay with the red thread, and the album was named "Gryningsvisor" (Swedish for 'Ballads at dawn').
Read our review here.