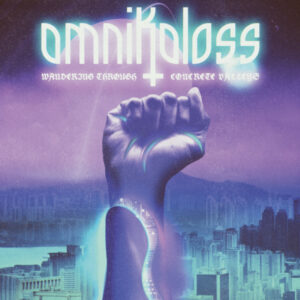 It's absolutely fantastic when a fan is greeted with an yell that seems to come from very depts of the inners of oneself. There's nothing better when the fan is welcomed by a vocal blast that makes your phones shake with all the power that comes from it. "Wandering Through Concrete Valeys" begins in the best way possible giving the fan an impression that the album will the heaviest possible with outrages of Extreme Metal. It couldn't be more out of the reality. The term hodgepodge I use once in a while never seemed so perfect for what my dear child of the night will listen here. To say that "Wandering Through Concrete Valeys" is surprising is also a little far from the reality of what the album contains. The album goes from the initial moment I mentioned to some industrial metal passing through some techno moments – I usually dislike bands that do that, but Omnikoloss found a way to turn all this non-Metal mess into something really palatable to a Metal fan. "In our eyes," for instance mix some gothic features with an uncanny and unexpected saxophone, a very rare instrument in Metal music.
"Wandering Through Concrete Valeys" is like a blast in the face especially if my child of the night decides to start the listening by "Just one fix" and its techno approach. Let me make myself very clear, it's really techno, not industrial metal as there are no guitars in it only the vocals. My opinion is that this track would be an end game if the rest of the album weren't really worth it. Sorry, there are guitars and a Black Metal drumming, but only in the end. Omnikoloss have an extreme ability of mixing all weird those experiences together making it something one of a kind. I'm alright with the fact the album isn't for any Metal fan. I guess most of them will stop listening to it by the first or second track, but with a little good will this album has everything to be a great experience. "Forsaken in a Lost World," for instance, has a more Extreme Metal grip with Omnikoloss's way of doing things. Great guitars. Grand finale "Aren't We Human Anymore" delivers that saxophone again making the moody and gray track a little more cool – in the Jazz way of it. I'd say that the track is much more than a Metal music  way of expressing a nightmare than everything else. The song tittle – I guess – expresses this nightmare as well. Humankind is exceeding itself in ways of not being human. Artificial inteligent is here and a reality. Let's wait for the next moves.
Omnikoloss "Wandering Through Concrete Valeys" will be released on May 05th via Unholy Conspiracy Deathwork.
Track Listing:
A Million Dead Eyes
Swallow You Whole
Elehat0r
In Our Eyes
Just One Fix
Forsaken in a Lost World
Aren't We Human Anymore
Watch "Forsaken in a Lost World" official lyric video:
1735