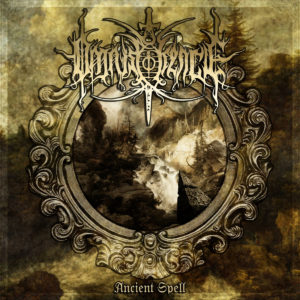 Wow! It was a hell of wait. There's been a gap of almost six years since I remember to have contacted the band and knew about their project and the upcoming single 2016's "The Coming of Iona" was in the works to be released. It was also one of my first reviews here for Metal Addicts. That time I had no contact with Metal press or recoding companies. I had my friends here at Metal Addicts and Facebook and other social media to meet bands to review. It was the first and only single I've ever reviewed here. And one of the first contacts I had with the exciting world of modern Extreme Metal music. I mean, a deeper and larger contact. Well, in many ways I can tell it was the first contact because to me still stuck with the 1980s Extreme Metal and a bit of the 1990s there would be no room for a complex, gloomy, and intricate effort as "The Coming of Iona" was. With them I learned how far Extreme Metal had gone. With them I started to make up the idea that I defend now that Extreme Metal is a real expression of human life itself. It's been a hell of journey since then.
I confess that at first I didn't recognise the band. It was when I looked at the press released that I finally came to my senses. Well, hell, it's been more than five years. Little by little the memories came to my mind and I started to have a full extent of the band and album I was dealing with. Then came "The Coming of Iona" and I had a full view of what it was. I had reviewed that before…
Now with more samples that a full length offers "Ancient Spell" doesn't sound too far from what I heard with "The Coming of Iona." There are more symphonic parts and the female voice continues to fill in the blanks with her angelic voice constrating with the shreaking evil male interventions. The constrast sounds even bigger now with more tracks to analyse. This voice is a presence in almost all tracks of the album. Even though as in "Travelers in Desecrated Land" it was impossible to decypher the language she's singing. If memory serves me right, I guess she's speaking some kind of language of some game. I recall the band having said something about this. But don't trust my memory even I don't rely on it. With "Ancient Spell" it's possible Omniscience's verve on classical music due to the various parts where the band exercises its abilities. Most songs shows this facete of the band. The mix between both features gets so clear as the album evolves. And the division between them. The classical part with the female voice and the Metal parts with the devilish voice.
It was such a pleasure to have this album in my hands after so long time. It's great to see bands I once reviewed here evolving.
Omniscience "Ancient Spell" was released in January via Nero Corvino.
Track Listing:
Ancient Spell
Hedron's Landscape
Through the Forest
Far Beyond
Travelers in Desecrated Land
The Coming of Iona
Gates of the Mindless Temple
Battle of the World
Watch "Through the Forest" official video here: