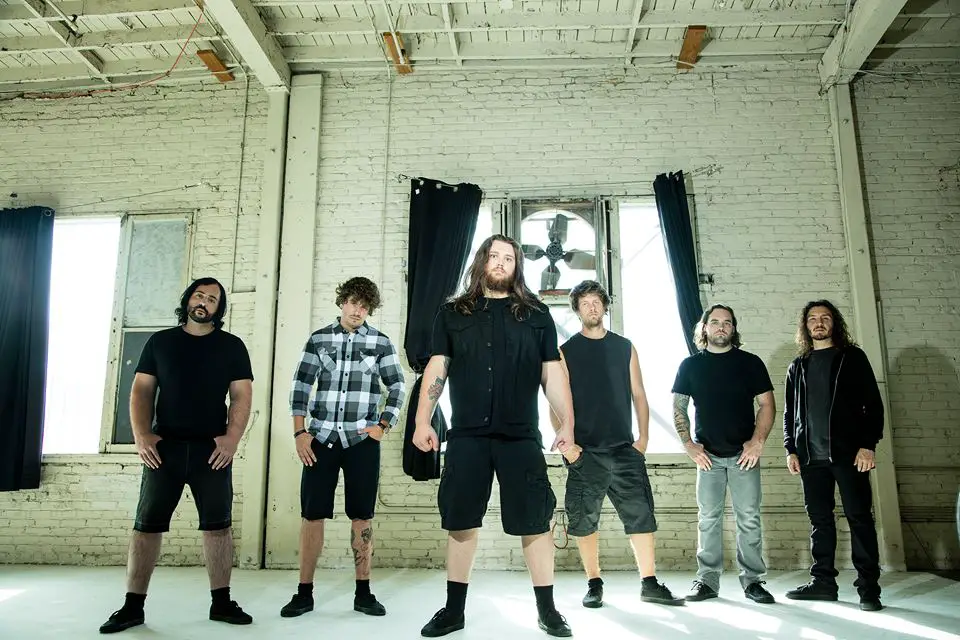 Technical progressive metal band ONI has announced the release of their debut scorcher "Ironshore", due out January 13th, 2017 via Blacklight Media/Metal Blade Records. After turning heads with their first single "Eternal Recurrence", the band is following up with their equally-superhuman single, "Barn Burner" which is presented in lyric video form, directed by Wovenwar/ex-As I Lay Dying guitarist Nick Hipa. You can watch it below.
Bassist Chase Bryant discusses the inspiration behind "Barn Burner": "Our front-man, Jake Oni, and I originally discussed including a 'get in the pit and die' track on the album, and 'Barn Burner' is that track. Musically, we went for something fast, heavy, and based around dream-like, mysterious tones. The track is inspired by a dream I had about parallel universes – I could see them all lined up like ripples in the water. A girl walked between the ripples and changed her surroundings at will. After having that vivid dream and working on conceptualizing it with Jake, the lyrics for 'Barn Burner' just poured themselves onto the page."
You can pre-order "Ironshore" in various formats here.
"Ironshore" takes listeners on an absorbing ride that provides ample opportunity for head-banging, singing along and deep introspection. Formed in 2014, the initial vision for ONI was, "to be the band I never got to see", explains Jake Oni. "Ironshore" was produced by Josh Wilbur, primarily recognized for his work with top metal artists Lamb Of God and Gojira. Through this connection, ONI was able to reach out to Lamb Of God vocalist Randy Blythe, who contributed his inimitable style to "The Only Cure" – one of 'Ironshore"s heaviest moments. With their influences rooted in progressive metal, ONI's sound can be compared to the genre's heavy hitters – The Human Abstract, Protest The Hero and Between The Buried And Me – yet they remain truly unique.
With Jake Oni handling vocal duties, Martin Andres and Brandon White on guitar, Chase Bryant on bass and Joe Greulich on drums, they are also perhaps the first metal band to feature a Xylosynth player, Johnny D, which adds an intriguing dynamic to the nine tracks found on "Ironshore".
You can read more about ONI here, where you can hear previously released track "Eternal Recurrence" and upcoming tour dates.